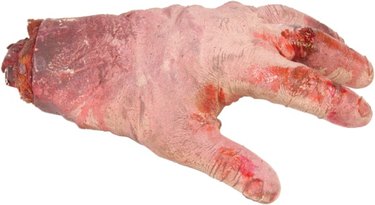 Whether you're looking for decorations for a Halloween party or haunted house or just want to add thrills and chills to your home for trick or treat, these easy and affordable DIY scary hands work perfectly indoors or outdoors. Available at most big-box stores, the supplies you'll need for this Halloween crafts project shouldn't cost more than a few dollars. Make fake hands to tell a spooky story or place them in unique locations to give guests a fright!
Here's our tutorial on how to make fake hands for Halloween.
Things You'll Need
Latex, vinyl or nitrile gloves

Sand

Zip tie or rubber band

Tape

Hot glue or plaster (optional)


Acrylic or latex paint

Paintbrush

Sealant

Decorative elements
Step 1: Select Latex Gloves to Make Fake Hands
Select latex gloves in a color that matches your intentions. White gloves are perfect for DIY Halloween props meant to resemble skeleton hands or severed limbs. Blue might be a better match for monster or zombie hands. If you have a latex allergy, choose gloves made of vinyl or nitrile.
Prepare the latex gloves by trying them on. Stretch them out a little. To use them as fake Halloween hands, they'll have to be strong enough to hold sand.
Step 2: Fill Your DIY Scary Hands With Sand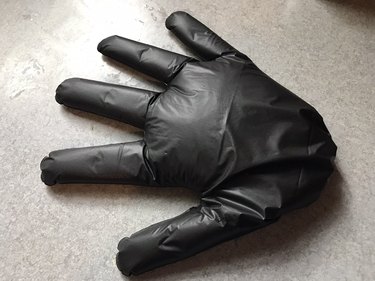 Purchase the right kind of sand to make fake hands. It pays to select a brand you can eventually repurpose for other projects later. White decorative sand, for instance, can be used in fairy gardens, terrariums and other home décor.
Carefully pour the sand into the latex glove, taking care to achieve realistic measurements. Make sure each finger is plump and that no section is overfilled. Also be sure to leave enough room to secure the end of the glove.
Step 3: Tie and Seal Your Latex Gloves
It can be difficult to knot the end of a glove without tearing the latex. Some crafters prefer the stability of a zip tie or the simplicity of a rubber band. After the opening is secured, you may want to cover the closure with a piece of tape.
Depending on how you intend to use your fake Halloween hands, you may want to cover the entire surface in a protective medium, like tape, hot glue or plaster. Just remember to pair the material with the environment in which you'll use the hands. Duct tape is a good choice for outdoor Halloween decorations, while masking tape would perform better inside.
Step 4: Decorating Your Fake Halloween Hands
Put the finishing touches on your DIY scary hands before putting them in place. Acrylic and latex paints work well on latex gloves as well as duct tape, cloth and other surfaces. If using them outdoors, you'll want to apply a layer of waterproof sealant to your project.
In addition to painting, you can add many fun elements to your fake Halloween hands. Fingernails, faux fur and spider rings can all help tell your haunted tales. They're an easy way to make fake hands even more fun for guests and family.
Step 5: Upcycle Your Halloween Decorations
Latex gloves break down over time, meaning these Halloween props won't last forever. Unlike silicon body parts, a latex glove fake hand prop will probably last for five years at most. That doesn't mean the supplies have to go to waste. You can make fake hands into new ones or upcycle them into evergreen items you use around your home.
Empty the sand from your fake Halloween hands and then thoroughly wash the inside. If the exterior is still supple, you can fill them with Orbeez beads or even slime to use as ice packs or stress releasers. You can also save the gloves for next Halloween and use them as molds to make life-size icy hands perfect for punch bowls and other party decorations.
Depending on the type of sand used, you can upcycle it too. Design a stunning holiday flower arrangement by using white sand as a base for artificial poinsettia, holly and pine. Save brown sand to add grit to your sidewalks in winter.
Creating your own DIY Halloween decorations is a fun and affordable way to make special memories. Whether you're entertaining trick or treaters or delivering frights to your own family, it only takes a few minutes to get fake Halloween hands right.