Things You'll Need
Thin latex gloves

Sand

Rubber bands

Red paint or artificial blood

Artificial fingernails

Fake fur

Glue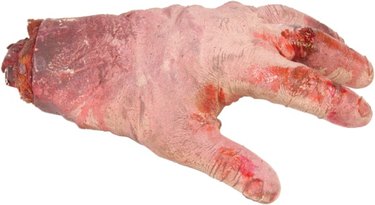 If you're planning a haunted house, Halloween party or simply want to up the creepy factor when decorating your home, you can make some very simple fake hands that look really scary. It only takes a few items to make them, and you can make them as scary as you like depending on what you need them for. Make fake hands that will give guests a double take when they are sitting down for dinner or rest them on the back of a chair.
Step 1
Insert your hands into a pair of latex gloves and stretch them out a little bit to get them ready for the sand.
Step 2
Pour sand carefully into each glove until it conforms to the shape and size of a real hand.
Step 3
Tie each glove shut with a rubber band so the sand won't leak out.
Step 4
Decorate the hands as you desire. Drip fake blood or red paint onto the hands, stick on some artificial fingernails or glue on some fake fur to look like werewolf hands. Use your imagination and create your own creepy hands.
Step 5
Place the hands where they will be seen and scare your Halloween guests.
Tip
Use glow in the dark nail polish to make creepy "fingernails" on your fake hands.
Warning
Gloves filled with sand are heavy and could cause injuries if they hit or fall on someone. Make sure the fake hands are securely positioned to avoid falling. Always supervise children when present with fake hands and other potentially hazardous decorations.