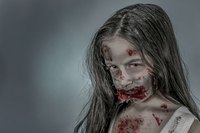 If you want to create theater-worthy scars or a large, crooked nose for your costume, scar putty is a must. Make scar putty at home with wax, face powder, petroleum jelly and few around-the-house items.
Things You'll Need
Foundation powder
Petroleum jelly
Microcrystalline wax
Bees' wax
Hot plate
Small pot
Knife
Stirring spoon
Set the hot plate to medium heat. Cut off a small amount of the microcrystalline wax. Keep in mind that you will want to use equal parts wax and petroleum jelly for the recipe.
Place both the wax and the petroleum jelly into the small pot. Heat on the hot plate until melted. Stir continuously.
Pour in a small amount of foundation powder. Use a shade that matches your own skin tone. Stir until the powder is well mixed into the putty. You may also want to scoop a small amount of the mixture into a bowl and add the foundation powder to it. This makes mixing the powder into the wax easier. Simply pour the colored mixture back into the small pot when it is well-blended.
Allow the scar putty to cool. As it cools, the mixture should turn a pale opaque color, yet remain soft and malleable. If it fails to become opaque or is sticky, heat it up again and add more wax. If the putty becomes hard when it cools, you need to heat it up and add more petroleum jelly.