Things You'll Need
Invitations

Lighting

Seating

Food

Beverages

Entertainment

Goody Bags/Favors

Thank you cards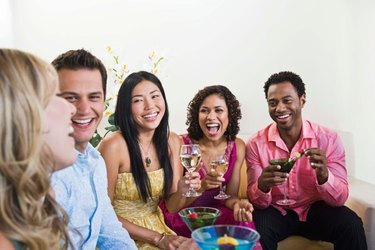 Social events make great networking and bonding opportunities, and they come in all types and sizes. Speed dating mixers, birthday parties and even charity fundraisers are all events that have a social focus. No matter which type of social soiree you're planning, keeping things in order and assuring your guests are satisfied is the key ingredient to a fun event. Consider the basics of planning a social event of any type, and customize it for your own needs.
Step 1
Establish your overall event budget. Consider your spending limit in choosing the important elements of your event, such as your event venue, food and entertainment. Choose a venue that will fit your budget and the size of your event, as it will likely take up half of your budget. Plan in advance for the best availability for your venue, and keep in mind that some venues may be more expensive, due to last minute reservations.
Step 2
Map out a timeline for planning the event. Schedule six months or more for large events, such as fundraisers, workshops and wedding parties that host 200 or more. Decide if you will have enough time to ask for financial help from business partners, social groups or charity donors, or if there is a need to pay for supplies on your own. Smaller events, such as networking mixers, game nights and social parties require less time and money. You may find that you can get the venue donated and only need to pay for food and activities for guests.
Step 3
Follow a strict budget for both your food and entertainment. Your budget will be determined by how much money you want to put into the event or how much money you will be able to raise. Plan for your food and beverage bill to take up the greatest part of your budget. Decide if you can afford a seated meal with multiple courses, or if the event will be reception-style with a buffet of hors d' oeuvres stations. Work with a caterer who will stay within your budget no matter if it's $3 per person or $200 a plate. Some events' food budgets are low, whereas the entertainment component, such as bringing in a live band or special performers, like a celebrity, may be high. Decide which of your food, venue and entertainment amenities will take up the most of your time and money.
Step 4
Create a theme to follow for your event invitations. Provide details on location, time and dress code for the event. Give instructions for special meeting areas or activities they need to know about. Create a plan for the overall visual look of your event. Secure the supplies needed for decorating your space, your centerpieces and the seating. Think about your lighting needs, or lack thereof, for the type of event you're planning.
Step 5
Invite guests who are not only appropriate for your event, but who likely will socialize with each other within your setting. Plan activities, such as a name game, where guests will need to remember the greatest number of attendees' names to win a prize. Plant a few highly sociable guests around the event to break the ice and to help guests feel at ease.
Step 6
Plan a menu that matches your event. Arrange for catering when you can, and be sure that food is prepared on time and presented before your guests arrive. Consider food restrictions and allergies in your menu. Think about activities in which the activity focuses on specific aspects of enjoying the food, such as a wine pairing or a dessert sampler. These are helpful in breaking the ice with shy socializers.
Step 7
Keep in mind the general interests of the groups attending and the focus of your event. Don't make the entertainment the main event, if you expect guests to enjoy mingling with each other.
Step 8
Give party goers something to remember the event by. Construct event favors or take along party favors as guests are departing. Use custom items for small groups where you can shop for trinkets each guest would enjoy.
Step 9
Don't forget to thank your guests for attending. Remind them of what good times they had by providing a link to a photo gallery of the affair, and let them know you'll keep them in mind for future events. Take notes on the pros and cons of the event for improvements for next time.
Tip
Enlist help from friends or coworkers to execute each section of your event planning.