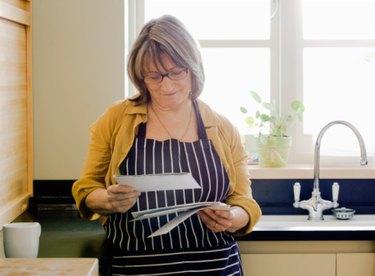 It's time to celebrate and while you're hundreds, or even thousands, of miles away from family or friends, the perfect way to remember an occasion is to send gift cards by mail. While mailing a gift card is less expensive than putting a checkerboard of stamps on the wrapping of a package, it does come with some caveats. The postal service has discontinued its specially designed flat rate envelopes with a slot for gift cards, but using a padded generic envelope will keep its contents more private than advertising a gift card inside, and is less inviting to those with sinister motives.
Tip
The U.S. Postal Service is the only service that delivers to every address in the nation, but that convenience is about to become more costly with temporary price increases across the board.
Choosing the Right Gift Card
It's lovely to open an envelope with a gift card for a specific store, but if that retail establishment isn't in your immediate area, the inconvenience may result in the card languishing in a drawer forever. The Atlantic reported that the Mercator Advisory Group estimated that between $2 – 4 billion was left on unused gift cards in 2018, and those funds ended up in the unclaimed property vaults in various states. Be sure your recipient has convenient access to the store issuing the gift card.
A nationally branded gift card such as those issued by Visa charge a fee when purchased. This fee can range up to 6 percent of the card value, which is tacked onto the price paid. While these cards are redeemable everywhere Visa is accepted, the more cost-efficient way to gift a card is to use one from a local business. These can be accessed online.
The Safest Way to Mail Gift Cards
Anonymity is the key to mailing anything of value. Everything from fur coats to diamonds make their way from one coast to the other via the postal service, but protecting the contents of an envelope has become more of an issue than before. Tuck your gift card into a holiday card, address the envelope and for added safety, enclose it in a padded, generic manila envelope with your address on the outside along with the address of the recipient. Ask for "tracking" when paying for postage."
Double packaging takes the worry about old glue on vintage cards coming unstuck, an envelope's clasp opening, or the tape getting caught in a machine and accidentally opening the outer envelope. Consumerist advises paying for a non-machine charge if your envelope is particularly bulky, or putting an address sticker on the gift card itself in case the envelope gets ripped open. Machines don't discriminate when it comes to tearing.
Purchase from a Trusted Source
Sending gift cards in the mail is only as good as the card itself. It may arrive safely, but if the card is from a dicey store or purchased online, redeeming it may prove difficult. While most retailers are honest when it comes to gift cards, some are not. Gift card scams vary from assertions that the IRS requires payment via a gift card to hackers tuning in while you enter a gift card number online and then using it before you even hang up. Never connect directly with anyone using a link. Go to the website by entering the URL address directly into your browser.
The U.S. Postal Service, and private mail services such as FedEx and UPS, do not offer a full-redemption value insurance on gift cards. To protect your gift card, write down the number and pin and keep it in a safe place until the card is redeemed by the recipient, recommends Runrex.