Things You'll Need
Internet access

Gift card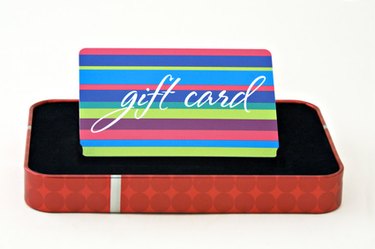 Booking airline reservations over the Internet allows you to see all available flights to and from your destination, then book the flight without ever contacting a travel agent. When purchasing the airline reservation you need to have some sort of debit or credit card. Because a gift card, such as a Visa gift card, is used just like a credit card it is possible to use the card to book your online reservation, as long as the card has enough money to cover the entire cost of the purchase.
Step 1
Navigate to the website you wish to book the airline reservations from, such as Travelocity, Expedia or Priceline.
Step 2
Select your departure city and the destination city, plus the date you want to fly on and how many passengers will be traveling.
Step 3
Choose the best flight that fits your needs. There are often many different flights, ranging in price, required stops and total flight time. Flights with longer flight times and more stops can sometimes be the cheapest option, although this is not always the case.
Step 4
Fill in your booking information, such as your name, email, mailing address and any other requested information.
Step 5
Type in the billing information for the gift card. This includes the 16 digit number on the front of the card and the expiration date. For a billing address write in the address the gift card was mailed to. Select "submit" and the airline tickets are purchased with your gift card.