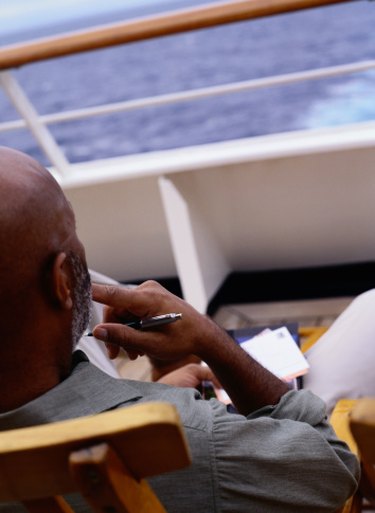 Cruise ship crew members do not have a traditional street address like most people. Instead, the ship on which they work is their home for extended periods, sometimes lasting 9 months or longer if a crew member decides to re-up for a new contract. Crew members can leave the ship for a short time while it's in port, but they must return in a few hours and continue on the job. If you wish to send mail to a crew member, follow these guidelines.
Step 1
Find out what cruise line the crew member works for. Find out the name of the ship on which he is stationed. Find out the identification number of the crew member. Make sure you include the correct spelling and full name of the crew member before sending a letter. If the crew member you wish to contact is at sea, most cruise lines have a general phone number and address where crew members can be reached regardless of their current location. Many cruise ships also make Internet available to crew members. Facebook has become a preferred way to contact personnel at sea.
Step 2
Address the envelope or package as follows: Cruise line Cruise ship name ATTN: Crew member full name and ID number Port address
Step 3
Contact the crew member by email or phone to obtain a list of away port addresses where mail or packages may be sent. You may send items to these away addresses or to the cruise ship's home port, depending on where the ship will be and the desired arrival time. If the crew member is not reachable, refer to online port listings for address and telephone numbers for each port used by the cruise line.
Step 4
Send the letter or package to the port address you have selected, allowing enough time for delivery to meet the ship. International letter and package shipments can take 6 to 10 business days when shipped Priority Mail and 1 to 3 days when shipped Global Express Guaranteed with the U.S. Postal Service. Domestic shipping of letters and packaging with the USPS can take anywhere from 1 to 8 days, based on the class of service selected.
Tip
Email may prove a far more efficient and rapid method of contacting a cruise ship crew member than traditional mail. Mail can only be delivered to the ship when it is in port and must arrive in time to meet the ship at a given port. Email is delivered instantly and will be received wherever the ship travels.
Warning
If your letter or package misses the ship, it will remain at the port until the ship returns again.
In cases of emergency, there are direct telephone numbers for each cruise ship. The rates for using these numbers are extremely high.