Things You'll Need
Card stock

1/2 inch ribbon, two or three colors

Hot glue gun

Hershey kisses, mints, or gumdrops

Three to five lollipops

Brooch pin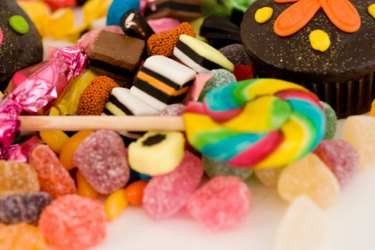 Birthday corsages originated in the '50s and '60s and were popular among 10- to 18-year-old girls. These corsages were made out of candy and curly ribbon and presented to the birthday girl on her special day. The type of candy used corresponded with the birthday girl's age. For example, lollipops were used on a 10th birthday and sugar cubes for a 16th birthday. Today, birthday corsages incorporate the recipient's favorite colors and candy.
Step 1
Cut three squares measuring 2-by-1 inches from a piece of card stock. Purchase two to three colors of 1/2-inch ribbon from a local craft store. Cut the ribbon into 3-inch lengths. Bend each ribbon length in half to create a loop, and hot-glue the loops around the edges of the card stock squares to create three daisy-like flowers. Add a second and third layer of ribbon petals to each card to fill in the flowers. The ribbon colors can be kept separate to create single colored flowers or mixed to create a rainbow effect.
Step 2
Decide which type of candy to use in the corsage. Hershey kisses, mints or gumdrops are examples of candy that will work well with the daisy design. Hot-glue one to three candies to the center of each daisy flower.
Step 3
Cut a 3-by-4-inch piece of card stock and lay in on a flat surface. Arrange the three daisies on top of the card in a tight grouping and hot-glue in place. If desired, arrange three to four lollipops in a cluster and hot-glue the sticks behind the flowers to give the corsage height.
Step 4
Cut an 8- to 10-inch piece of ribbon and tie in a bow. Hot-glue the bow to the base of the corsage, slightly underneath the daisies. Trim the ends to the desired length. Attach a brooch pin onto the back of the card stock base using hot glue.
Tip
Create a wrist corsage by cutting a strip of 3/4-inch elastic big enough to fit around the wrist and glue its ends to the card stock base.