Things You'll Need
Large pot of water with lid

Egg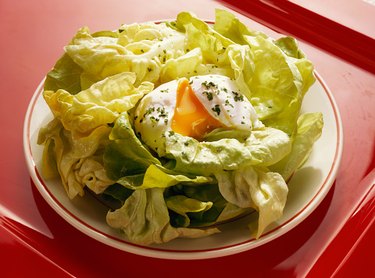 Silicone poaching pods are designed to help you quickly and easily poach eggs. If you've been hesitant to drop a whole egg right into simmering water, using a silicone pod can help keep the egg white in place, ensuring your poached egg stays together and comes out looking great and tasting delicious. You can find silicone egg poachers for sale at kitchen supply stores and super stores.
Step 1
Bring a large pot of water to a boil.
Step 2
Crack an egg and gently slide the egg into your silicone poaching pod, being careful not to break the egg's yolk.
Step 3
Carefully float the poaching pod in the boiling water, making sure the pod stays upright and no water gets into the pod.
Step 4
Cover the pot with the lid and let the egg cook for six minutes.
Step 5
Remove the lid and use a large slotted spoon or tongs to lift the poaching pod out of the hot water.
Step 6
Flip the poaching pod upside down over a plate and gently press on the bottom to release your poached egg onto the plate.
Tip
You can wash your silicone egg poaching pods in the dishwasher.
Try using your poaching pods to make other tiny dishes, such as frittatas and miniature cakes.
Warning
Silicone poaching pods are designed to be non-stick, so your poached egg should slide out easily after cooking. However, if this isn't the case, grease your pod with a little bit of butter or olive oil before you crack your egg into it to help prevent sticking.