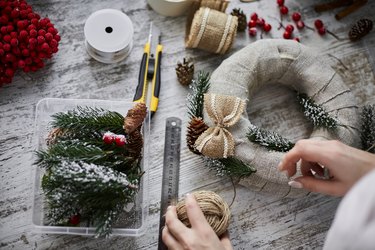 Wreaths are a quintessential and ubiquitous Christmas decoration. Whether you want to send one as a gift to a loved one or you're going into business making them, shipping wreaths is easier than you might assume. That being said, a fragile wreath faces many perils in the mail. To make sure your wreath doesn't get damaged, you should learn the correct way to package a wreath as well as how to ship a wreath cheaply (or as cheaply as possible) to save money.
Use Wreath-Shipping Boxes
The best way to ship a wreath is by using the United States Postal Service. Priority Mail boxes are often flat rate, which can help you save money. A good size for a standard wreath is 12 inches by 12 inches by 6 inches.
When you package your wreath, you don't want to leave a lot of extra space in the box. While you don't want to squash the wreath, you also don't want to give it a lot of extra room to slide around and bump the sides of the box.
Cushion any extra space with newspaper or other packing materials. Don't forget to put some packaging in the center of the wreath. That will help hold the entire thing in place and prevent any of its accessories from becoming damaged. Once the wreath is in place in the box, pick it up and gently shake it. Make sure the wreath doesn't slide around. If it does, adjust your packaging.
Methods for Shipping Wreaths
Using a Priority Mail box and shipping through USPS is one of the most common ways to send a wreath. However, you have other options too. You can always send through another carrier, such as UPS or FedEx.
Both UPS and FedEx calculate shipping by either size or weight depending on which is more. Most wreaths don't weigh very much, so they'll probably charge by size rather than weight. With UPS, a 5-pound box of the same size (12 inches by 12 inches by 6 inches) would cost just under $25 to ship. With FedEx, it's about the same. These shipping rates are calculated for cross-country shipment (New York to California).
There are many places to purchase beautiful Christmas wreaths to send at various price points. You can also use third-party services, such as Shiply, Shippo, Shipping Easy and more. Most of these will find the most affordable options for you, pick up your item and deal with tracking and other issues. They may also be able to package and insure your shipment. You can also buy a wreath online and have it shipped directly to the recipient.
How To Ship a Wreath Cheaply
Don't wait until the last minute to ship your wreath. Nothing drives up shipping charges like needing to pay for expedited delivery. Remember that all postal services are slower around the holidays because of increased volume. Give yourself at least two weeks.
Use a box that you already have. If your wreath is store-bought, you might be able to ship it just as is. Can you ship a box with writing on it? Absolutely. Cover or black out any bar codes or old shipping information to avoid mistakes.
You can also shop around and use online tools. USPS, UPS and FedEx all have online tools that let you input your package's weight and dimensions, shipping time, delivery dates and more so that you know the exact costs before you arrive at the store.