Things You'll Need
Scissors

Spare piece of tulle

Invisible fabric adhesive

Petroleum jelly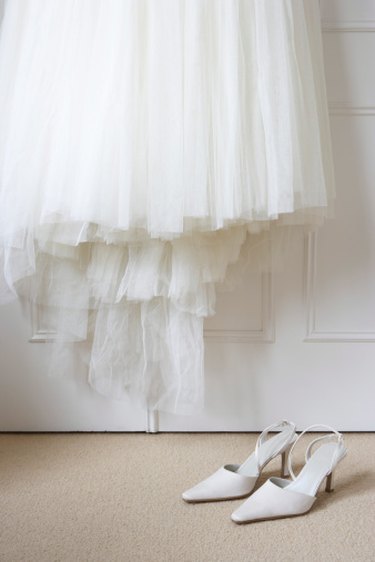 Tulle is a delicate netting made from nylon that is named after the city in which it was first made: Tulle, France. This material is used to add fullness to bridal gowns and formal dresses, and it is also the material from which bridal veils are made. Because of its delicate nature, tulle is especially susceptible to rips and tears. If you have a wedding dress, veil or other garment with ripped tulle, disguise the rip with invisible fabric adhesive and a piece of tulle taken from a hidden layer.
Step 1
Measure the hole to determine how large of a piece of spare tulle you need. If the hole is very small, simply hand-stitch it closed with some matching colored thread.
Step 2
Cut a spare piece of tulle from the hidden layers of the dress. If you do not have the luxury of cutting tulle from a hidden layer (for example, if you are repairing a veil that is one layer), purchase a small amount of tulle that matches the color of the item.
Step 3
Trim the tulle piece so that it is a few centimeters larger than the hole in the tulle. Place the tulle item that is being repaired on a covered, flat work surface.
Step 4
Poke a hole in the top of the invisible fabric adhesive to open it and apply petroleum jelly to the top of the nozzle to prevent the glue from stringing and getting on other parts of the tulle.
Step 5
Apply a thin line of adhesive around the perimeter of the hole and gently put the replacement piece on top of the glue. Allow the two pieces to adhere together, but lift the tulle from the flat surface as the glue dries so that the item does not adhere to the surface.
Warning
Always work in a well-ventilated area when using adhesives.