Things You'll Need
Measuring tape

Fabric marker

Scissors

Pins

Sewing machine

Iron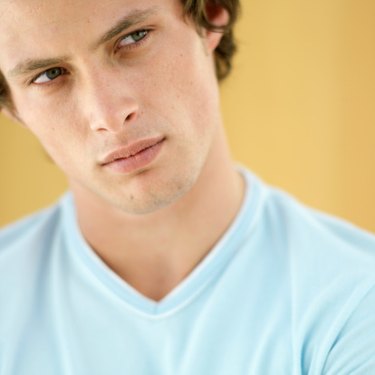 Round-neck shirts, whether snatched up at a concert or laying around the house unused, need a revamp sometimes. A fantastic way to change a plain round-neck shirt is to alter the collar from the round shape to a stunning V. This operation can be performed on T-shirts or blouses with some careful measurements, a pair of scissors and a steady hand.
Step 1
Measure from the top of your shoulder, close to your neck where the shirt's original collar would hit, down to the center point on your chest where you would like the V to land. This point will normally be located just above the bust line. Subtract 1/2 inch from this measurement to allow for finishing and seams.
Step 2
Lay the T-shirt or blouse on a flat, even surface. Using a fabric marker, or a white crayon, mark the V onto the front of the shirt using the final measurement from Step 1. Mark the V starting from shoulder seam and going in a straight line toward the center of the V.
Step 3
Cut out the front V using scissors, following along the marked lines. Be sure to cut even, straight lines to make the V.
Step 4
Turn the shirt inside-out and lay flat with the newly cut V facing upwards. Fold 1/2 inch of fabric over along the V and pin in place.
Step 5
Sew the neckline in place using a sewing machine. Turn the shirt right-side-out again and iron the new neck line for a finished, polished look.
Tip
Cut through both layers of fabric on the shirt to get a matching V in the front and the back of the top.