Most homeowners benefit from the security provided by burglar alarms like the Intermatic SP230 wireless alarm. The SP230 wireless alarm features a motion sensor which sounds when the alarm is armed, as well as a "radio frequency" controlled siren speaker unit which must be programmed. Leave the alarm freestanding or mount the unit next to your front or back entrance. Programming the wireless alarm system requires setting the switches and selecting the security code. You can complete the setup in less than an hour. Use the Status LED indicator to verify that the alarm is armed or disarmed.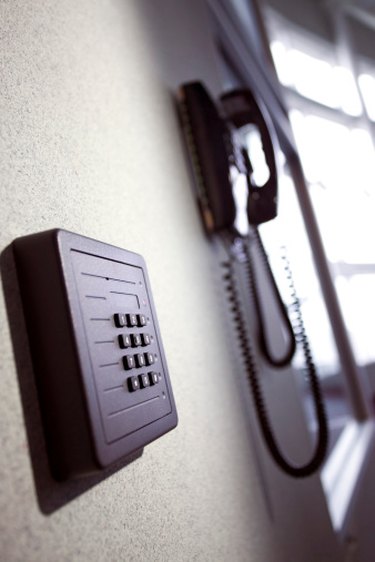 Things You'll Need
4-Digit Security Code

Intermatic Sp230 Hardware

4 Aa Batteries
Step 1
Select a four-digit security code for arming and disarming the Intermatic SP230 wireless alarm. Write down code.
Step 2
Press the upper center of the cover of the battery compartment on the backside of the unit, and slide down the cover. Insert four "AA" size batteries in the compartment, positioning the batteries on the side according to polarity.
Step 3
Wait for the "Battery Low" LED to flash and "RF", or radio frequency, siren to chirp when to indicate that the batteries are properly installed.
Step 4
Set the code by entering the four-digit code on the keypad immediately after the LED flashes and siren chirps. You will only have five seconds to enter the code after the LED flashes.
Step 5
Set the three switches of the RF speaker to match the settings of the three dip switch settings of the RF siren speaker by flipping the manual switches, or dip switch, up or down according to the position of the switches of the siren speaker if you want to use the siren speaker with the wireless alarm unit.
Step 6
Press keypad #4 and wait for the Status LED to flash and the siren to sound, to arm the alarm when leaving the protected area. You will have 30 seconds before the siren sounds.
Step 7
Enter your four-digit security code on the keypad to disarm the unit. Be aware of the Status LED flashing and chirping of the siren as you enter the fourth digit of the code.
Tip
When the motion sensor of the Intermatic SP230 detects motion, the alarm will sound for a full 60 seconds, then reset for 15 seconds. If movement is detected after the alarm is reset, then the alarm will sound again for 60 seconds, until the code is entered or motion is stopped.
Warning
The Intermatic SP230 is not intended for outdoor use. The unit will not operate in damp or freezing conditions.