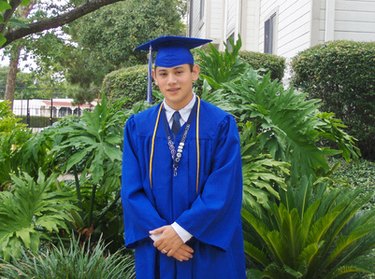 High school graduation is one of the most memorable moments in most teenagers' lives. It may also be an overwhelming time that is met with mixed emotions about what the future holds. Whether you are happy about the prospect of moving forward in life or feeling down about leaving behind familiar people and places, you can still look forward to celebrating your high school graduation in a variety of different ways.
Step 1
Gather a few of your friends together for a road trip. If your parents have never permitted you to travel far away from home before, they may agree to letting you do so after graduation.
Step 2
Reward yourself for graduating by purchasing an expensive gift, such as a laptop, digital camera or jewelry. Or book a vacation to your favorite location and spend the week celebrating being a graduate.
Step 3
Throw a graduation party for yourself and your fellow graduates. Use your school's colors as inspiration for the decorations. Serve punch or cupcakes that are also in your school colors for a creative touch.
Step 4
Decorate your car with banners and slogans to let everyone know you've just graduated. Write slogans on the side windows in washable window marker so your view will not be obstructed while driving.
Step 5
Make a mix CD of graduation-inspired songs like "High School Never Ends" by Bowling for Soup and "Graduation (Friends Forever)" by Vitamin C to reminisce on the things you are going to miss about high school.
Step 6
Get a small tattoo of your former high school's mascot on a hidden part of your body.
Step 7
Take your parents out to dinner on graduation night to thank them for all their support.
Step 8
Spend the day after graduation online looking for a job and sending your high school buddies humorous messages on every social networking site that you are on.
Step 9
Organize an outing to a beach, zoo or amusement park with your family and friends.