Things You'll Need
Card stock

Scissors

Glue

Pencil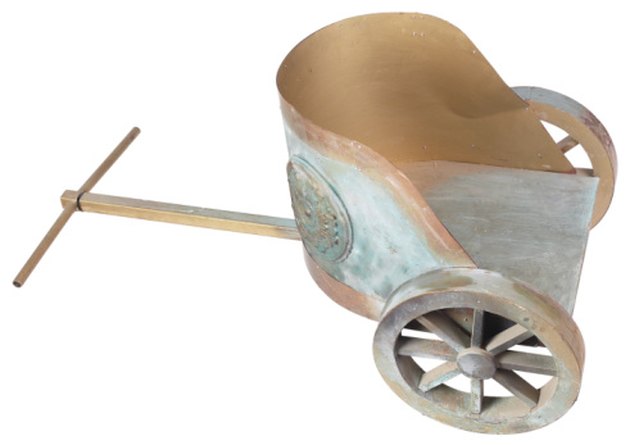 Egyptian chariots were the preferred form of transport and were also the highest form of military technology in ancient Egypt. The reason the chariot was so prolific in Egypt is because of the flat terrain that lends itself to chariot use. It is quite easy to make a toy version of one of these chariots. They require only a few pieces of readily available materials.
Step 1
Cut the base of the chariot out of card stock. The base should be semicircular oval shape with a radius of approximately 2.5 inches.
Step 2
Cut a 3-by-2-inch rectangle out of the card stock. This will act as the front and sides of the chariot.
Step 3
Cut half-inch incisions into the edges of the base of the chariot. Make five to six incisions at equidistant intervals. Fold the edges between the incisions so that they stand upright.
Step 4
Bend the rectangle into the curvature of the chariot base. Glue the bottom of the rectangle to the inside of the upright card stock on the chariot base. Use only small amounts of glue as the card stock will easily hold. Hold it in place until it has dried.
Step 5
Cut the ends of the rectangle on the chariot's sides in a sloping angle toward the chariot base so that the sides' edges become shorter as they extend away from the front of the chariot. This is a typical Egyptian chariot design feature.
Step 6
Cut two 2-inch diameter circles out of card stock and glue them to the sides of the chariot as wheels.
Step 7
Finish the chariot by decorating it as desired with coloring pens, glitter -- be creative. Decorating the chariot would be an enjoyable task for a child. As a final touch, you may want to tie a piece of cord to a toy horse and place a toy character in the chariot holding the cord, or "reigns."