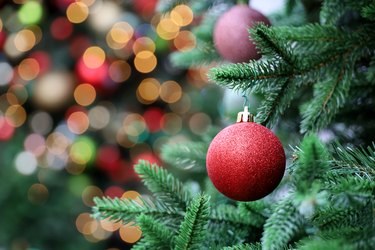 Things You'll Need
14 to 16 inch grapevine ball

Electrical tape

100 count indoor/outdoor mini lights

Extension cord
Round out your Christmas decorating with lighted grapevine balls you can make yourself. Colorful grapevine spheres covered with mini lights add warmth and holiday cheer to anything from balconies or windows to doorways and mantles. You can also string lighted balls onto tree branches for an eye-catching night time display. Make spheres in different sizes for added dimension and create a color theme that blends with existing décor elements. Multicolor lights will lend a retro feel to the holidays while an all white or all blue lights theme creates a winter wonderland effect.
Step 1: Cover the Receptacle End With Tape
Cover the receptacle end of the mini lights with electrical tape to further ensure rainwater or debris won't cause a short circuit in your outdoor lighted grapevine ball in case you're making the balls for outdoor use.
Step 2: Secure the Receptacle
Firmly grasp the grapevine ball in one hand and gently lift a branch, creating a 1-inch space for securing the receptacle end of the mini lights. Tuck the receptacle end of the mini lights under the branch of the grapevine ball and pull it tight so that it can't slip out.
Step 3: Wrap the Grapevine Sphere With Lights
Wrap the string of the mini lights around the grapevine ball. Make the first two wraps in the same direction for tightness and then wrap from different angles to avoid a striping effect. The string of mini lights will tighten and become more secure around the grapevine ball with each wrap.
Step 4: Finish Wrapping the Lights
Finish wrapping the entire string of lights around the ball, making sure lights are evenly distributed to create a continual spherical shape.
Step 5: Tuck in the Plug End
Tuck the plug end of the mini lights under a branch of the grapevine ball and pull the plug as far as possible through the branch. There should be 3 to 4 inches of excess cord, which come in handy for hanging suspended spheres at different lengths.
Step 6: Finish and Test Your Grapevine Ball
Insert the plug into the extension cord and wrap electrical tape around the connection if you're creating an outdoor display. Test your ball of lights before hanging for an even light. Stand at least 10 to 12 feet away from the light ball to get an accurate visual of the sphere.
Step 7: Display Your Grapevine Sphere With Lights
Position your lighted grapevine ball up high enough to be seen easily, even from a short distance. Plug it in and enjoy your lighted grapevine ball.
Tip
Always take a few minutes to read the safety warnings in the packages when working with mini lights. While the rules may seem all too familiar, it never hurts to refresh the concept of "safety first." Do yourself a real favor -- when you're finished with your project, don't throw away the packaging instructions. Stuff them back into the package so you'll have them for next year's refresher course.
Warning
Do not overload circuits or connect more than three strings of lights together. Do not overload electrical outlets. Plugging in multiple extension cords into one outlet can lead to a fire. Read and understand all packaging instructions. Do not work outdoors with electricity when it's raining.