Things You'll Need
Sweatpants

Sweatshirt

Gloves

Fabric dye

Oversize underpants

Sneakers

Thin card

Headband

Paint

Sticky tape

Face paint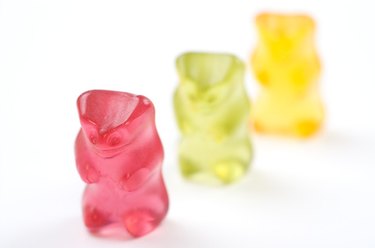 Gummy bears are a sweet candy that can be the inspiration for a costume that's just as sweet! Perfect for Halloween, school dress-up days or just for fun, this simple costume can be made at home for a fraction of the price of a store bought version and is a fun project for you and your child.
Step 1
Match the color of the sweatpants, sweatshirt and gloves. If you find this difficult, choose light colored clothes and use the fabric dye according to the instructions on the packet to dye everything the same color.
Step 2
Cut two bear ear shapes out of thin card and paint to match the color of the costume. Attach the shapes to the headband with small pieces of sticky tape.
Step 3
Dress your child in the sweatpants, sweatshirt and gloves and add the ears.
Step 4
Paint your child's face using the face paint in a color that matches the costume and a make-up sponge.
Step 5
Add a nose by drawing a circle in black face paint on the tip of his nose and eyebrows by drawing semi-circles above your child's eyebrow line.
Step 6
Draw a wide smile over their mouth with the black face paint.
Step 7
Finish by drawing and filling large white face paint circles around his eyes with small black face paint circles in the center to make them seem as pupils.
Warning
Remember to check the face paint. Children should only use water soluble face paint.