Things You'll Need
Embroidery thread

Darning and embroidery foot to fit your sewing machine

Embroidery hoop

Stabilizer

Adhesive spray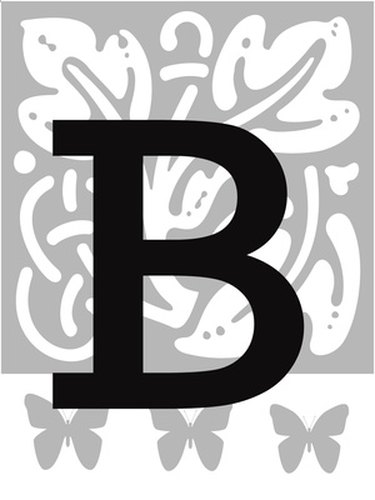 Monogrammed items are popular on children's boutique style clothing, hand bags, hand towels, robes and other accessories. When you want to add a monogram to an item, you could pay an embroidery shop to do the work. However, if you have a sewing machine with a zig zag stitch setting, you can use a free motion technique to monogram items yourself, saving you the time and cost of having it done elsewhere.
Step 1
Thread your sewing machine needle with machine embroidery thread, then thread the bobbin with bobbin thread or fine white cotton thread. Do not use the machine embroidery thread in the bobbin. This can cause problems with your monogram and thread breakage.
Step 2
Remove the standard presser foot on your sewing machine and replace it with a darning and embroidery foot. Lower the feed dogs or cover them with a piece of heavy paper if they can't be lowered. Set the stitch length on the sewing machine for a wide zig zag stitch. Standard stitch length for embroidery is 3 to 5 mm, but you should use whatever width is best for your project.
Step 3
Apply the stabilizer to the back of your fabric using the spray adhesive. Place both layers in the embroidery hoop, making sure the fabric is taut. Draw the monogram on the fabric using a disappearing ink fabric marker.
Step 4
Place the fabric under the needle, lower the presser foot and begin sewing on the line that you drew with the invisible ink fabric pen. Hold the rims of the hoop to move the fabric slowly while running the machine at high speed. Stitches should be uniform and dense enough to cover the fabric evenly.
Tip
When monogramming on plush fabrics such as terry or fleece, place a layer of water soluble stabilizer on the top of the fabric. This will hold down the fibers so that the embroidery stitching can cover it evenly. You can wash this stabilizer away after your project is complete.
Warning
Correcting mistakes can be tedious, so practice this technique a few times before monogramming your first item.