Things You'll Need
Disposable wine glasses, cups, plates, utensils

Food

Beverages

Ice

Condiments

Decorations (Optional)

Party favors (Optional)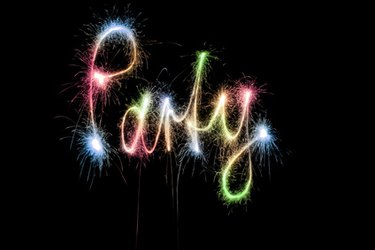 A party for 150 people may be a wedding reception, a retirement party, a birthday party or a farewell party. Unlike a smaller gathering that can be arranged quite simply, a party for 150 people requires careful planning. Sometimes the primary focus is on the food and drink. Other times, music may be the most significant factor. Determine the party's needs, and then start planning. With proper preparation and coordinating, you can throw an event your guests will remember.
Step 1
Set the date for your party at least three months in advance. Choose a date that works well for most people. For example, avoid holiday dates, graduation time or dates that conflict with events going on in your neighborhood. If you're planning a party for 150 people that focuses on a date that is non-negotiable, such as a birthday, you'll have less room to avoid potential conflicts. However, you should still begin the planning process at least three months in advance to prepare properly.
Step 2
Decide if you would like music and a professional to manage the music. With a crowd of 150 people, a DJ is a good choice. Book your DJ on the same day that you choose the date of your party.
Step 3
Pick the theme for your party. Will it have a specific theme, such as a Mardi Gras party? Or, will your party for 150 people be a general gathering? Purchase decorations for your party based on the theme, and give yourself at least two weeks in advance if you are buying your decorations online.
Step 4
Locate a venue for your party that's large enough to hold 150 people. Whether you choose an indoor or outdoor location, you'll need to factor in renting price, unless you are holding the event at your home. Book the location as soon as you determine a date. The farther in advance you look for a venue, the better your chances of getting your top choice. Check with your city to determine if you will need a permit for a home party. Some locations require them for large numbers, despite the fact that the party is private.
Step 5
Save time and money with online invitations. Some services allow guests to RSVP online and leave notes (see Resources). Give yourself at least two weeks' leeway before the start of the party for the final response date.
Step 6
Plan food and drink for the party. If your budget allows, consider having the event catered, because serving food and drink to 150 people is challenging. Otherwise, the easiest and most economical way to serve food and drink to your guests is to ask your guests to bring one food or beverage item apiece. Make it clear on the online invitations that each person should indicate what he will bring. Create a checklist of items as people respond, and then keep people up-to-date of what is still needed. Supplement the total food and drink items with your own contributions, if needed. Remember that some of your guests will pass on food, drink or both.
Step 7
Choose party favors, if you wish. To keep your costs low, even if you have the money to spend, focus on one item for a party favor. If you're going with a theme, choose one item that would support the theme. Set party favors on the table for people to take. If you are ordering your party favors, order from an online site at least two weeks in advance to ensure that the products arrive on time.