Things You'll Need
Blank medical ID tag

Hard piece of wood

Masking tape

Metal letter stamps

Hammer

Jump rings

Pliers

Jewelry chain

Heavy-duty wire cutters

Jewelry clasp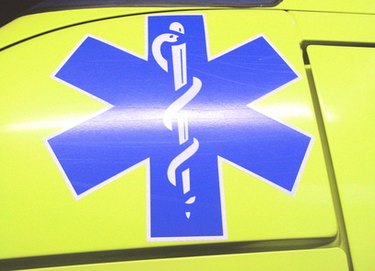 If you want a medical ID bracelet but don't want to spend the money having it engraved, you can do it yourself. After you have gathered the tools to do letter stamping on metal jewelry, you can add the name of your medical condition, or that of someone you know, on a blank medical ID tag. You can purchase a blank tag that has the official symbol of the American Medical Association on the front.
Step 1
Place your blank medical ID bracelet tag face down on a hard piece of wood on your work table.
Step 2
Stick a piece of masking tape across the back of the tag so that the top edge of the tape is in a straight line across the middle of the tag. The tape will be used to guide you in making the letters in a straight line.
Step 3
Place the metal stamp for the first letter where you want the word to begin, using the top edge of the masking tape as your guide. Hit the top of the stamp once, in a hard, steady blow, using the hammer. Lift the stamp to see the first letter of the word for your medical condition. Repeat this with the other letter stamps, and remove the masking tape when you are done.
Step 4
Open two jump rings. Grasp an open end of a jump ring with a pliers, and pull the ends sideways in opposite directions, just enough to put the end of a chain through. Slip the open jump ring on the loop opening on one end of the bracelet tag. Close the jump ring by grasping the two open ends with the pliers and lining up the ends. Repeat this step on the other side of the bracelet tag.
Step 5
Place the tag on your wrist with the Asclepius symbol facing up, and center the tag on the top of your wrist. Hold the ends of the chain together at the bottom center of your wrist and use a heavy-duty wire cutter to cut the chains where they meet under your wrist.
Step 6
Attach jump rings to the loose ends of the chains. Slip the loops at the ends of the clasps on two open jump rings, and close the jump rings. Place your homemade medical ID bracelet on your wrist, and close it with the clasp.
Tip
You can also attach beading wire to the ends of the bracelet tag and decorate your medical ID bracelet with beads. If the symbol is small enough and off to the side of the front of the tag, you can stamp the name of your medical condition on the front instead of on the back of the tag.