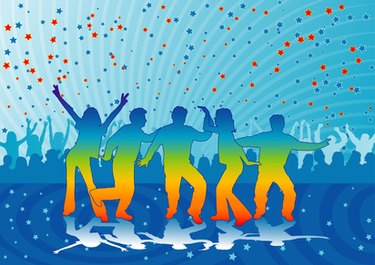 Planning a party for a large amount of people can be fun and exciting. It can also be stressful and overwhelming if you're unsure of the steps to take. If party planning is not something you do often, it can quickly become a hassle and seem nearly impossible. With a little preparation and the right tools, planning a party for 50 people is an easy and stress-free task.
Step 1
Set a date for your party. If there are any people in particular that you hope to be there, make sure the date of the event is convenient for them.
Step 2
Choose a venue to host your party. If your home is large enough to host 50 guests, be sure to have enough table space and seating to accommodate everyone. If you plan to have the party elsewhere, be sure to reserve the space ahead of time.
Step 3
Pick a theme. Decide what decorations will go best with this theme and make sure to notify guests if they are expected to dress a specific way to go with your chosen theme.
Step 4
Develop a budget. Consider this when deciding on decorations, meals, entertainment and other party essentials. If you have a tight budget, costs can be cut by making your own meals and decorations.
Step 5
Send out invitations to your guests. Provide clear instructions on what to wear, if they are required to bring anything, directions to the venue and clear RSVP instructions.
Step 6
Arrange for catering, photographers, flowers and any hired help that you will need three weeks before the party will take place.
Step 7
Finish all tasks ahead of time. Try not to have to do anything the day of the event and prepare for anything that may go wrong. Have a few backup plans for entertainment that might cancel or catering that may go wrong.
Tip
If planning a party alone seems overwhelming, consider hiring an event planner to assist you.