Things You'll Need
Tube sock

Uncooked rice

Holiday-themed fabric

Buttons

Pom-poms

Googly eyes

Yarn

Scissors

Orange and black felt

Spray glitter

Pipe cleaners

Feathers (optional)

Beads (optional)

Sequins (optional)

Hot glue or craft glue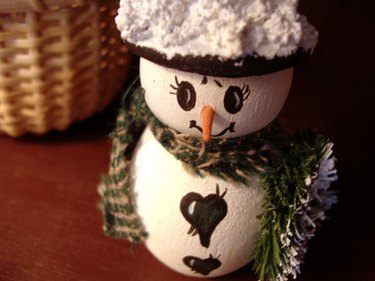 Making sock snowmen is an entertaining way for parents and their kids to spend the afternoon together, especially when it's too cold to go outside. The project offers a lot of room for creativity and requires only a handful of inexpensive supplies, like tube socks and rice, which you can probably find lying around your house. Sock snowmen can serve as holiday decorations, personalized gifts or seasonal toys for toddlers.
Step 1
Turn the sock inside out. Fill it two-thirds full of rice and tie off the top about an inch above the rice level with yarn. Make sure the tube sock is straight and has no curves for the ankle or heel.
Step 2
Form three different sections of the body on the outside of the sock using yarn tied in double knots. One piece of yarn should separate the base and the midsection; one piece should separate the midsection and the head; and one should tie off the top of the head with about 3 inches of sock left above. The bottom section should be the largest, the middle medium-sized, and the top section small for the head. Trim off the excess yarn ends so the knots are clean. Shape the sections until each section is perfectly round. Flatten the bottom so the snowman will stand upright on a table.
Step 3
Fold the top portion of the sock down to the top of the head to create the snowman's hat. Glue it in place. Then glue a small pom-pom to the piece of sock fabric created on top.
Step 4
Glue googly eyes or buttons to the snowman's head to make his eyes.
Step 5
Glue a line a mismatched buttons down the front of the snowman's midsection.
Step 6
Glue pipe cleaners to the sides of the snowman's midsection to create arms.
Step 7
Cut a small scarf out of holiday print fabric to tie around the snowman's neck.
Step 8
Cut a carrot-shaped piece of orange felt to create the nose for the snowman, and then glue it on below the eyes.
Step 9
Cut small circular pieces of black felt, and then glue them on one by one to create the snowman's mouth.
Tip
Make a black top hat out of construction paper or craft foam to give the snowman more of a "Frosty" look.
Spray the snowman with spray glitter to add some sparkle.
Warning
Allow small children to use craft glue instead of hot glue to avoid burning themselves.