Things You'll Need
Measuring tape

Poster board

Pencil

Large mixing bowl

Small mixing bowl

Scissors

1 yard of fabric

Fabric scissors

Straight pins

Sewing machine

Thread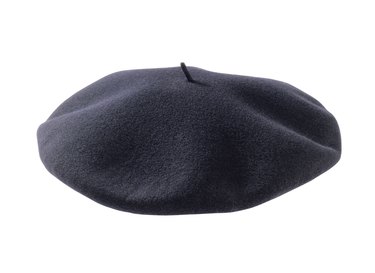 If you enjoy wearing hats, a fabric beret can add to your fashion statement. Berets can be made from a variety of fabrics to complement your wardrobe; although berets are often made in felt, other fabrics can be used. Consider velvet for a dressy look, or wool or knit fabrics for a more casual style.
Step 1
Trace a circle 16 inches in diameter on a piece of poster board using a large mixing bowl or cooking pot to get an exact circle. Cut out the circle to use as a pattern for your beret.
Step 2
Trace another circle 11 inches in diameter on another piece of poster board using a smaller mixing bowl. Cut out this circle.
Step 3
Trace two large circles on your fabric using the 16-inch pattern. Cut out the fabric circles.
Step 4
Place the 11-inch pattern in the center of one of the fabric circles. Trace around the pattern. Cut this center circle out to create the opening for your head.
Step 5
Pin the two large circles along the outer edge with the right sides together. Sew around the outside edge of the circles with a ½ inch seam. Turn the pieces so that the fabric is right side out. Press the fabric.
Step 6
Measure around your head with a cloth measuring tape. Add ½ inch to this measurement for the length of your beret band.
Step 7
Cut a rectangular strip of fabric for the beret band 6 inches wide and as long as your head measurement plus 1/2 inch.
Step 8
Fold the band strip in half, matching the short ends. Stitch the ends with a ½-inch seam. Press the seam open. Flip the band so that the right sides are facing out.
Step 9
Fold the band in half with wrong sides together and raw edges aligned. Press along the fold.
Step 10
Pin the band along the opening of the smaller circle of the beret with the raw edge of the band pinned to the raw edge of the inner circle. You may need to gather and tuck the band somewhat to fit. Stitch the band in place with a ½-inch seam.
Tip
Add a favorite brooch or flower pin to your beret for decoration if desired.