This homemade mac and cheese recipe is all at once simple and versatile. Add veggies (like carrots or cauliflower) for added nutrition, or stick to the basic recipe here for comfort food at its very best.
Things You'll Need
2 cups uncooked macaroni (plain, whole-wheat, gluten-free or vegetable-infused)

3 cups grated cheddar cheese

6 tablespoons butter

3/4 cup Greek yogurt (or sour cream)

1/4 cup milk

2 large eggs

1 teaspoon salt

3/4 teaspoon mustard powder (or 1 teaspoon regular mustard)

1/4 teaspoon freshly ground pepper

1/4 cup grated parmesan cheese

Optional: 2 cups grated carrots or finely chopped cauliflower
Cook the Pasta
The first step is cooking your pasta. Bring a pot of water to a boil, then cook according to package instructions minus 2 minutes.
If you're adding carrots or cauliflower, throw them in with the pasta during the last 2 minutes of cooking time.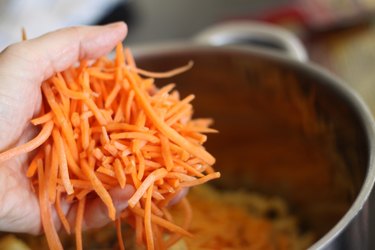 Combine the Ingredients
Drain and combine all the ingredients -- except the parmesan cheese.
Tip
Don't skip the mustard! This is the secret ingredient that brings out all the flavor in our homemade mac and cheese.
Bake the Casserole
Meanwhile, grease a casserole pan with butter and preheat the oven to 400 degrees F.
Once the cheese, butter, milk and spices have started to melt and combine, pour the entire pan into your prepared casserole dish.
Just before placing in the oven, grate the parmesan cheese over the top.
Bake for 25 minutes in a shallow pan (like this one pictured), and up to 35 for deeper designs. Once the cheese is bubbling and the top is just starting to brown it's done. Allow to set and cool for about 10 minutes before serving.
More Great Casserole Ideas
For more easy-to-make casseroles, check out some of these delicious dishes: