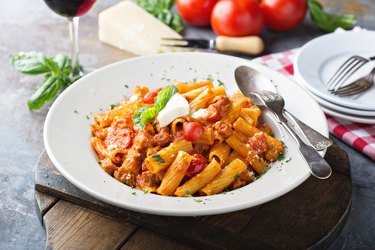 Like with all kinds of pasta, boiling rigatoni seems pretty straightforward. You fill a pot of water, set it to boil, add pasta and drain the noodles once they're cooked. Easy, right? Cooking rigatoni pasta certainly isn't a super-complicated task, but these ridged noodles can become a gluey, stuck-together mess pretty quickly. Boil the pasta correctly to ensure every ridged tube is perfectly chewy and ready to be sauced.
Rigatoni's name couldn't be more logical: It comes from the word "riga," Italian for "ridge." This kind of pasta is associated with Rome but has widespread popularity and is eaten throughout Italy and the world.
Rigatoni noodles are tube-shaped like penne, but their larger size and ridges means they can hold even more sauce both inside and out. Typically, rigatoni pasta is between 1 and 2 inches long, though mezzi rigatoni is also available. These noodles are about half the length of traditional rigatoni but take the same amount of cooking time.
We've all heard different strategies for cooking pasta over the years, but here's the basic method that pasta experts generally agree on as the right way to boil pasta. Start with cold water; cold water coming out of your tap has less dissolved minerals in it than hot water, and those minerals can change the flavor of your pasta. Use 4 quarts of water to cook 1 pound of pasta or half that amount to cook half as much pasta. Bring the water to a rolling boil over high heat.
Add about 1 1/2 tablespoons of kosher salt to the water (or less if you're not cooking a full box of pasta) but don't add oil – it will only float to the surface of the water and give pasta an oily sheen that prevents other sauces from sticking. Pour rigatoni into the salted water and set a timer for 11 minutes. Stir the pasta with a wooden or long-slotted spoon. Let it boil for another minute or so and then stir again. Once the rigatoni have started to cook, you want to move them around a bit so they don't get glued together for the rest of the cooking time.
Use a slotted spoon to pull out one noodle to test when the timer goes off; the pasta may need one or two more minutes of cooking time, or it might have reached al dente perfection. Strain the pasta into a colander (save pasta water if you're making a sauce) but don't rinse it. Add sauce right away before rigatoni can cool down and collapse. Fresh rigatoni noodles need far less cooking time than dry pasta. Boil the pasta for just one to three minutes.
Ideas for Using Rigatoni Pasta
There's no wrong way to eat rigatoni. If you're a picky eater who swears by nothing but butter and Parmesan on your pasta, they'll work beautifully with rigatoni. That said, these noodles really shine in baked pastas and recipes that use chunky sauces. Long noodles, like spaghetti, or smooth pasta shapes, like bowties, don't hold sauce the way rigatoni does. And when the noodles are cooked properly and hold their tube shape, they fill with bits of meat and veggies and sauce so every bite is the perfect bite.
Try mixing rigatoni with white beans, diced tomatoes, sautéed greens/onions/garlic and plenty of mozzarella cheese in a casserole dish. Bake until the cheese is melted for a quick vegetarian weeknight meal. Rigatoni is also the star of a beloved dish called chicken riggies that originally came out of Utica, New York. This dish is comprised of just rigatoni, seared chicken pieces and a spicy cream sauce with tomatoes and hot peppers. Try it with a side of cooked greens and crusty bread.