Things You'll Need
1 lb ground beef

1 packet of dry onion soup mix

1/3 cup bread crumbs

1 tsp. garlic powder

¼ tsp. dry mustard

1 egg

Ketchup

Parmesan cheese

Food thermometer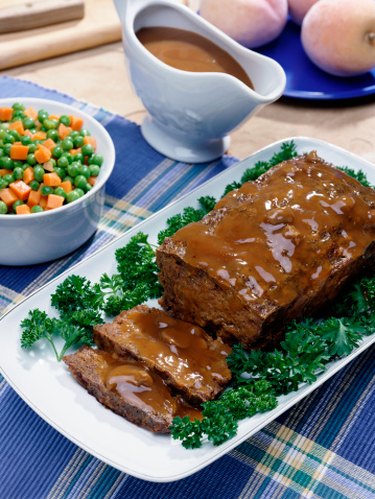 Meatloaf is perhaps one of the easiest classic dinner recipes and does double duty with delicious leftovers. It takes very few ingredients and very little time to prepare and to make a standard meatloaf. It is a versatile main course, as you can add most any ingredients you like to a standard meatloaf recipe and it will turn out fine. If you enjoy your meatloaf crusty, there are a few ingredients to add that will help harden the top of the meatloaf.
Step 1
Prior to combing the ingredients for the meatloaf, preheat the oven to 350 degrees Fahrenheit. Mix 1 lb. of ground beef with 1 packet of dry onion soup mix, 1/3 cup bread crumbs, 1 tsp. garlic powder, ¼ tsp. dry mustard and 1 egg. Use a spoon or mix by hand to ensure all the ingredients are integrated; mixing my hand is a quick and sure way to mix all the ingredients evenly.
Step 2
Place ingredients in a 9-inch-by-5-inch loaf pan. Press the meat mixture down into the pan to mold it into the shape of the pan.
Step 3
Spread a thin layer of ketchup on the top of the meat mixture. This will provide the foundation for a crust on the meatloaf.
Step 4
Bake in the oven, uncovered, at 350 degrees for one hour or until the meat reaches 160 degrees Fahrenheit on a food thermometer.
Step 5
Take the meatloaf out of the oven and add a layer of Parmesan cheese to the top of the meatloaf, entirely covering the ketchup. Turn the oven to broil on high and cook for an additional five minutes. The addition of the Parmesan cheese to the ketchup hardens the top of meatloaf, creating a crispy crust.
Tip
This technique for creating a crusty topped meatloaf can be used with any meatloaf recipe, not only the one which has been provided.
An alternative to ketchup is to mix a 16 oz. can of crushed tomatoes and a small can of tomato paste to spread on the top of the meat mixture. Rather than broil as in step 5, turn the oven up to 500 degrees and bake uncovered for an additional five minutes. This makes a tasty meatloaf crust.
You can use a mixture of ground beef, veal and pork for a variation of flavors.
Use one egg for every pound of ground beef.
Wash your hands thoroughly after handling raw meat.