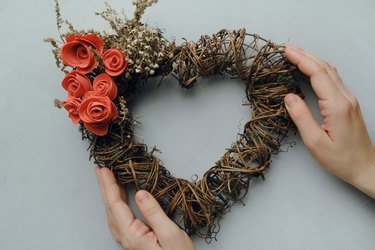 Homemade wreaths look so pretty on doorways, and they're not only for Christmas. You can make a DIY wreath frame and decorate it for fall, winter, spring and summer. Once you put the frame together, let your imagination do the rest. You only need a few supplies and tools to make a DIY wreath form, and it shouldn't take long to put it together.
You can make a simple DIY wreath form out of a foam core and cardboard. Lay a sheet of this on a flat surface and place a flat, round pan on the foam. Trace a light circle around it and use a protractor to create a wider circle around it. Cut out the larger circle with a utility knife and then cut out the middle. Glue the foam to the cardboard donut shape and feel free to make other shapes with the foam core too, like stars and squares.
You can also make a wreath frame out of pipe insulation. Attach the ends to make a circle and tape it securely with duct tape or something similar. Another way to make a DIY wreath frame is to get a hanger and stretch it out into a circle, heart or something else. You can use the hanger hook to hang up those wire wreaths or you can snip it off with wire cutters. You can even surround this with your pipe insulation.
Making a Larger Wreath Wire Frame
To make a larger wreath wire frame, use three hangers and bend them into circles, making one a large size and each of the others 2 inches smaller. For example, if the first one is 12 inches in diameter, the next should be 10 inches and the last should be 8 inches. Snip off the hook ends with wire cutters and twist them closed with pliers.
You can also do this with fabric scraps to make a wreath frame with ties, but whichever method you use, you'll want to ensure that you evenly space the connections. You can also keep the hook on the largest hanger circle or add another kind of attachment to hang it.
Fall Wreath Ideas and Construction
To make a basic wire frame fall wreath with the three-hanger method, get assorted greenery and other decorations. It's best to use things like fir, laurel, boxwood, juniper and cedar branches plus sage, rosemary, rose hips, beautyberry, seed pods and pine cones. Cut your materials into segments from 4 inches to 8 inches long and sort them into piles by type.
Pick up a few pieces in a small bunch and make adjustments until satisfied. Wrap this with a piece of green paddle wire several times until it is tight. Lay this on top of the frame and move on to your next grouping. Continue working, keeping each one the same size and wrapping them with more wire. Place each one on top of the previous one on the frame, overlapping slightly. Secure them with more wire as you work. You can attach pine cones and other items but disguise the wire under the greenery.
If you are using a foam core, you'll need to attach everything with hot glue. These kinds of wreath frames are good if you want to attach things like fabric ribbons all the way around. Wreaths do not have to be hung on doors. They look especially lovely on tables with candles in the middle. Online resources have plenty of DIY wreath photos that you can also use for inspiration.