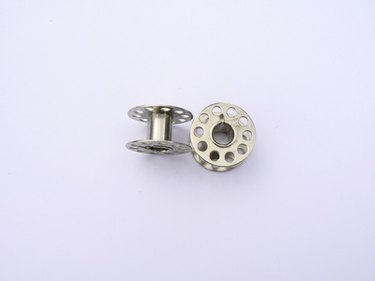 Replacing the bobbin case after changing the thread spool gets you back to sewing. The Singer Simple model is designed for the beginning sewer. Even with its simplistic design, often getting started takes a bit of time, concentration and practice. Without the bobbin casing properly in place, the machine will not sew. You can get the machine up and running again.
Step 1
Turn off the power to the machine. Power is not needed for any part of the process. Turn the machine off and unplug for safety reasons.
Step 2
Turn the hand crank on the machine to move the needle into the highest position. Move the presser foot the up position.
Step 3
Open the hinged latch covering the front of the bobbin cover. This is the device that holds the spool in place.
Step 4
Place the threaded spool inside the inner casing. Place in so the thread is running in a clockwise direction.
Step 5
Slide the thread through the slot opening on the let bottom of the casing. The slot is next to the outer arm of the casing. Close the hinged latch.
Step 6
Hold the casing so the outer arm is sticking straight up. The thread will be coming out to the left of the arm; lay it under the arm to the right.
Step 7
Push the casing into the internal bobbin slot on the machine. It will lightly snap into place.
Step 8
Replace the outer machine cover over the bobbin.
Tip
Use spools designed for the Singer Simple machine. Other spools may be too wide.
Warning
If the thread is not laid across the bobbin casing to the right of the outer arm, it will not be picked up by the machine.