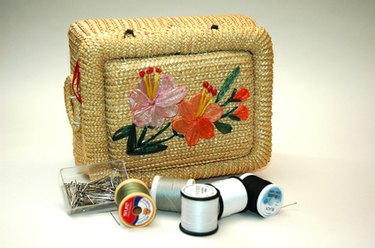 You don't need a sewing machine to make simple alterations that turn your clothes into do-it-yourself projects. A little ingenuity, a needle and a thread go a long way toward turning the clothes you already have into the clothes you want. Whether you're updating tired clothes or fixing them so they fit you better, you can do it all by hand.
Step 1
Hem your pants or skirts. Hemming is a job that doesn't require a sewing machine. Put the new garment on and mark the new hemline with a straight pin. Turn the hem up, folding at the place you marked, and press. Pin the hem all around and hand stitch in place. Make small running stitches that pick up only a very small amount of the front of the fabric.
Step 2
Change your buttons. Changing buttons, and moving them if necessary, is a simple alteration that never requires a sewing machine. Remove your old buttons. Choose new buttons that are the same diameter, so that they fit your button holes. Sew the new buttons either in the same place or slightly to one side or the other to alter the garment for a better fit. Try safety pinning the garment closed in the new place before moving buttons to make sure the fabric won't gape or pull.
Step 3
Take in pants at the waist. This method is best for lightweight fabrics -- particularly skirts, shorts, or any garment with a waistband. Turn your pants inside out and lay them on a table. Determine how much you need to take your pants in by and divide that number of inches in half. Using that measurement, pin a line from the front and back of the waist band to the side seams. Hand sew along this line using small straight stitches. Sew a second reinforcing seam. Trim the excess fabric, leaving a 1/4 inch seam.
Step 4
Use scissors to alter non-fraying materials such as t shirts, fleece and felted sweaters. Cut long sleeves short, change necklines, or even cut up the front center to turn a sweatshirt or t shirt into a cardigan. These fabrics don't require hemming.
Step 5
Alter the appearance of your clothing by dying, painting or hand sewing on embellishments.
Tip
Fusible tape is a great option for quick hems and repairs, particularly one where the hem would be visible. The weight of the fabric you are taping would determine the weight of the tape you would use.
Electric cordless scissors make cutting fabric quick, easy and are often more accurate than ordinary shears.