Things You'll Need
Sharp knife

Fresh flowers and greenery

Fresh floral food packets

Flower sealant

Floral tape

Ribbon
A drooping or wilted wedding bouquet of fresh flowers is a real fear for any bride preparing for the big day. Set the fear aside and feel secure that you can make a wedding bouquet stay fresh through the wedding ceremony, photo session and reception thereafter. Flowers properly prepared and fashioned into a bouquet will stay fresh and beautiful for at least 12 hours when stored properly prior to the festivities.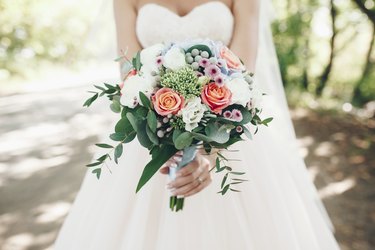 Select Sturdy Stemmed Blooms
Select flowers with sturdy stems such as roses, carnations, hydrangea, peonies and lilies for the fresh do-it-yourself wedding bouquet from fresh flowers. Buy eight to 12 fresh flowers for the hand-held bouquet.
Process the flowers and place them directly into a clean sterile container of water. Spray the blossoms with a flower sealant for an optional way to keep the flowers fresh according to Wedding Flowers and Reception Ideas.
Tape Three Stems Together
Hold three flower stems together with the blossoms at the same height. Wrap floral tape around the 1- to 2-inch length of the stems to secure them together about 4 inches down from the blossom.
Tape More Flowers in Place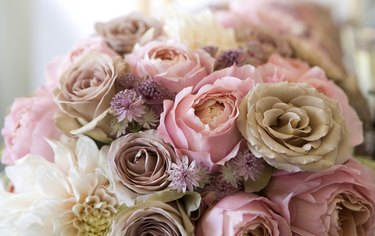 Place three to five more flowers at the sides, and slightly lower than the center blossoms, and tape them in place. The bouquet will have a slightly rounded appearance. Add optional sprigs of baby's breath, statice, leather leaf, smilax or ivy to the outer edges of the flowers and tape into place.
Water and Seal the Fresh Flowers
Set the wedding bouquet into a container with 2 to 3 inches of water to promote freshness. Spray it with floral sealant for an optional boost.
Wrap the Stems With Ribbon
Wrap a section or the entire length of the stems with ribbon a few hours before the wedding. Secure the ribbon end in place with hot glue or corsage pins. Tie a bow or set ribbon tails to the stems for an optional look.
Hydrate the flowers by keeping the stems in water until nearly time to carry the bouquet for the ceremony.
Store the flowers in a cool room until photo sessions or the wedding ceremony. Keep the bouquet away from heat sources or freezing temperatures.
Handle the Bouquet of Fresh Flowers Gently
Handle the bouquet with care. Refrain from touching the blossoms with your fingers to prevent bruising the petals.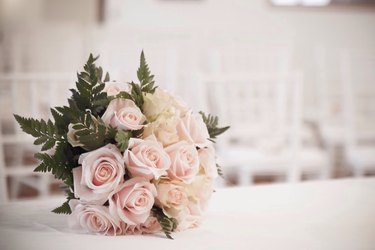 Place a decorative container with 2 to 3 inches of water on the bridal table to set the bouquet into during the wedding reception. The bouquet is a centerpiece that remains hydrated and fresh in the container.
Tip
If the wedding location is experiencing extreme heat conditions, consider putting the stems into florist tubes filled with water and disguise them with ribbon wrap. Cut the wedding bouquet of fresh flowers to a 3-inch length and insert them into a water-soaked floral-foam bouquet holder to keep fresh for a wedding and reception lasting several hours.