Things You'll Need
Two sheets of white poster board

Two 6-inch pieces of 1-inch-wide black elastic

Stapler

Pencil

Markers or crayons

Black shirt and pants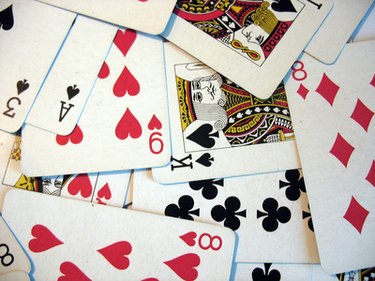 Playing card costumes are unexpected choices for Halloween and work especially well as costume choices for a couple or a group. A couple can go as a king and queen of hearts, and a family can go as a full house or royal flush. You can base your card design on a traditional deck of cards, or put your own Halloween spin on your card by creating skeleton kings and queens. Card costumes only require a few basic supplies, making them an inexpensive choice, and because they simply rest on your shoulders, they are appropriate for all body shapes and sizes.
Step 1
Decide what playing card you would like to create. You can use a basic deck of cards for inspiration, or look online for ideas. Consider replacing traditional face cards with skeleton, vampire or zombie faces for a fun Halloween spin. If drawing is not your strong suit, consider choosing easier-to-draw cards like the Ace or number cards.
Step 2
Sketch the design you want onto one sheet of poster board in pencil. Once you get the design right, color it in with markers or crayons.
Step 3
Sketch the same design on the other sheet of poster board if you want the front and back cards to look the same. If you want the card on your back to look more like the back of a traditional card, create a subtle graphic pattern like a grid or repeating circles in shades of blue or red.
Step 4
Staple one end of each elastic piece to the inside top of one piece of poster board, then staple the other end to the other piece of poster board in the same position. The elastic pieces will work as shoulder straps, holding one piece of poster board in front of your chest and another against your back.
Step 5
Put on any black shirt and pants and place the card costume over your shoulders. If you like, add complementary face makeup like hearts or diamonds on your cheeks, or a joker hat.
Tip
Use paint instead of markers for a bolder, richer effect.
If you're not much of an artist, cut the numbers and shapes out from large pieces of colored construction paper and glue them to the poster board.
Try snapping a high resolution image of a real playing card. Take it to a print shop where they can blow it up to poster board size and print it out. Then simply glue it to the poster board.