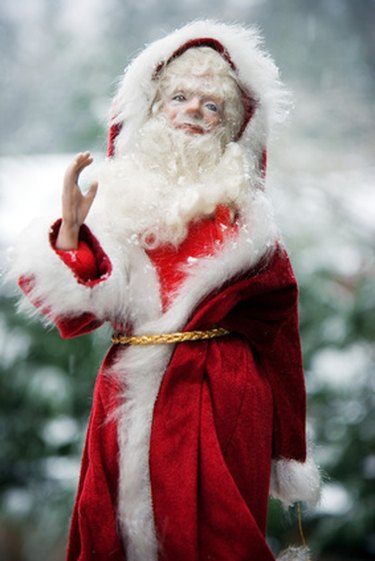 If you've volunteered to be Santa, the last thing you want is to end up struggling with a beard and wig that just won't stay on. You'll need your beard and wig to stay in place through different conditions. For instance, you may sweat indoors, find yourself walking through a breeze outdoors or even have small children tugging on your beard. To avoid spending the whole time in the bathroom repositioning your accessories, learn to put them on securely so that they stay in place until you remove them. That way, you can devote your energy and attention to playing Santa and entertaining the children.
Step 1
Choose a beard and wig of an appropriate quality. The set that is included with a Santa suit may not have strong enough elastic, for example. Weak elastic may stretch or break completely. When you buy a wig and beard set, you will probably have the choice of one with an attached mustache or a separate one. An attached mustache will most likely be the better choice, especially if it has a wire running through it to adjust its shape and position.
Step 2
Put your beard on before the wig. The beard will be held in place by a piece of elastic that goes over your ears. If the elastic is too long, tie a knot in the back to make it tighter.
Step 3
Manipulate the wire in the mustache until it is in the desired position and shape above your upper lip. If you have a separate mustache, attach it over your upper lip with some spirit gum.
Step 4
Place the wig on next, tucking your hair up under it as you pull it down over your head. Most Santa wigs now come attached to a net wig cap, which helps hold longer hair out of the way. If you have very long hair, though, it may help to buy a full wig cap to wear underneath the wig. Alternatively, a simple hair net may be enough to hold your hair up and out of the way. Once in position, the wig should cover all of the elastic holding the beard in place.
Tip
Wear fake eyebrows, or whiten your own with an eyebrow stick, to complete your Santa costume.
Warning
Don't eat or drink through your fake beard and mustache.