A cowgirl outfit is a classic costume. You may already have many of the items needed for a cowgirl costume in your closet, or you can purchase them inexpensively at thrift stores. Let your personality shine through with your choice of accessories and color scheme. Create a young and fun look with hot pink or bright red accessories, or go classic western with plaids and browns. Dress the costume up with silver and turquoise jewelry, or keep it fun for young cowgirls with a plastic gun and lasso.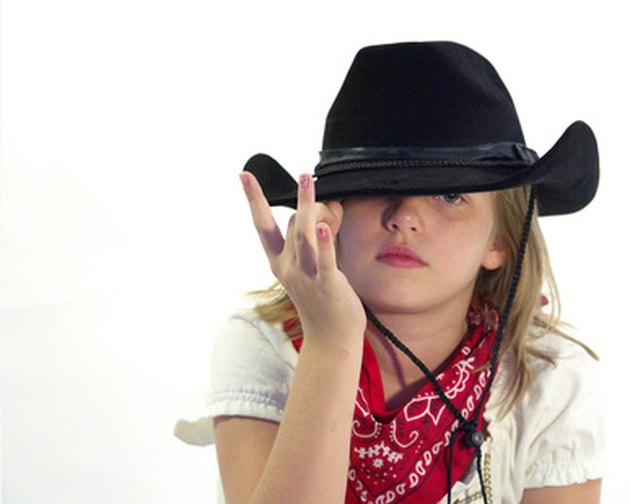 Things You'll Need
Cowboy boots

Cowboy hat

Button-down shirt

Denim skirt, shorts or jeans

Leather belt

Bandana

Toy gun and lasso (optional)

Silver and turquoise jewelry (optional)

Fringe (optional)
Step 1
Select a button-down shirt from your closet, or purchase one from a thrift store. For a classic look, select a shirt in a plaid print or blue chambray, or choose any solid color shirt to create a more modern cowgirl look. If you have a second-hand or borrowed shirt that is too large, simply wear it unbuttoned over a tank top and tie the bottom ends together in a knot at your waist.
Step 2
Select a pair of jeans, denim skirt or shorts to wear. Short denim cut-offs and skirts create a sexy cowgirl look for adults, while a pair of basic jeans or a longer denim skirt work well for active young cowgirls. For young cowgirls who want to wear shorter denim skirts, pair with basic black leggings for a look that is age appropriate and warm enough for nighttime trick or treating.
Step 3
Don a pair of cowboy boots. If you don't have any, you can find them at thrift store. If you can't find your exact size at a thrift store, buy a larger size and wear thick socks for comfort. Consider spray painting the boots to coordinate with a bright red or hot pink cowgirl look. For very young cowgirls, consider buying a pair of cowboy-style booties.
Step 4
Don a cowboy hat. Again, these can often be found at a thrift store, party store or dollar store. For a very inexpensive choice, consider plastic cowboy hats available for just dollars. Spray paint the hat to coordinate with your costume or tie a ribbon around it with a bow in the back for added femininity. If you have a second-hand or borrowed hat that is too large, line the inside with folded newspaper strips to create a snug fit.
Step 5
Add a jean jacket or vest for added warmth and style, and fold a bandana into a triangle to tie around your neck for a classic rodeo look. Wear a leather belt with a large buckle. Young cowgirls will have fun with accessories like a toy gun and holster, piece of rope for a lasso and toy horses. For a more mature look, add classic western silver and turquoise jewelry.
Step 6
Put your hair in pigtails with bright ribbon ties. Wear red lipstick to coordinate with red boots and hats, or apply clear lip gloss and pink blush to cheeks.
Tip
Consider adding embellishment to denim skirts or shorts by purchasing fringe from a craft store. Simply safety pin or stitch the fringe to the underside of your skirt or shorts' bottom hem for added cowgirl flair.