Things You'll Need
Template

Needle

Thread

Felted wool

Cotton or polyester fill

Two buttons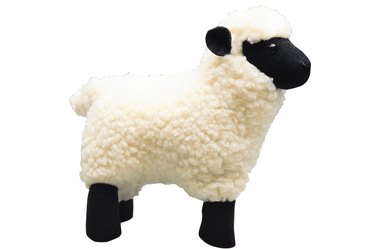 Cozy, cuddly and cute, stuffed animal sheep make appropriate gifts for newborns, young children, sick patients or stuffed animal collectors. While some sewers and hobbyists prefer to use real sheep's wool for the main body of the toy animal, any fabric can be used, such as cotton or polyester. Stuffed sheep can be incorporated into a manger scene, added to a stuffed-animal menagerie or serve as a cuddly child's toy. You will need a pattern or template for the shape of the sheep before beginning.
Step 1
Download a pattern template and print. Enlarge the image as desired using a photocopier. Cut out the template. Lay the template on top of felted wool or the chosen fabric and cut, beginning with the underbelly piece. Stiffen the legs of the sheep form by folding back the legs at each solid line on the template and stitching along the dotted lines.
Step 2
Cut the side piece out of the template, followed by a second side piece formed by flipping over the template. Place right sides of the pieces together and stitch one of the sides to the underbelly, leaving an 1/8-inch seam, sewing in the direction of neck to tail. Sew the other side piece to the other belly edge, so that the underbelly fits between the two side pieces. Cut out two tail pieces, using the tail template, and stitch together with right sides facing. Leave a hole at the base of the tail. Turn the stitched tail inside-out and stuff with cotton or polyester fill.
Step 3
Attach the tail between the two side pieces using a stick pin to hold the part in place. Sew the two side pieces together along the top portion, or spine, of the lamb. Allow a gap at the back and top of the head. Cut out the top head piece and four ear pieces, using the template. Sew two sets of ear pieces, right side facing, and leave a hole at the base of each. Turn inside out.
Step 4
Pin one ear onto the head piece, facing forward between the layers of the head, and sew around the top of the head, securing the ear. Repeat with the other ear. Turn the sheep "skin" inside out. Stuff with small pieces of cotton or polyester fill. Sew the back closed with a slip-stitch.
Step 5
Add character to the stuffed animal sheep by giving the toy a face. Sew on small buttons for eyes or stitch X's for a sleepy lamb face. Avoid buttons if the sheep is intended as a gift for younger children, as small objects can pose a choking hazard. Stitch nostrils onto the center of the face using a darker-colored thread. Embellish the mouth with a triangle of pink felt for a tongue, if desired.
Tip
Put a ribbon collar on your sheep.
Warning
Embroider the face on the sheep for little ones as buttons are a choking hazard.