When it comes to the safety and decor of your home, the ideal product should include style and function. Kwikset creates aesthetically attractive, sturdy and functional handlesets for the exterior door of your home. Installing a Kwikset handleset only requires a couple of tools, including a screwdriver and a tape measure. The kit includes a small Allen wrench along with the hardware for the door handleset.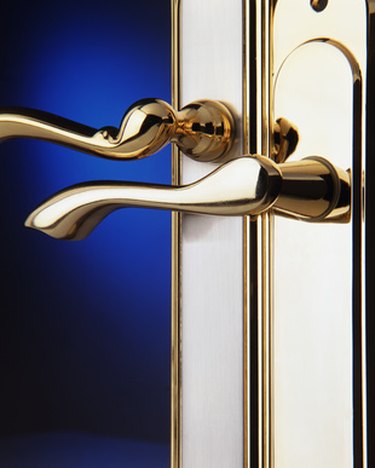 Step 1
Remove the old handleset including the grip and deadbolt components, latches and strike plates.
Step 2
Adjust the dead bolt latch to fit the back set of the door by extending the bolt and rotating the front to lengthen.
Step 3
Install the dead bolt latch in the top hole of the door using the small Allen wrench.The slant in the latch should be facing in the direction that the door closes in.
Step 4
Remove the interior lever portion of the handleset and cover from the lever assembly. Push the latch bolt in to insert the handleset. Align the system so that everything matches up.
Step 5
Install the interior lever assembly by mounting the base and align the spindles accordingly. Rotate the mount counterclockwise in order to receive the screws. Once the mount fits flush against the door, release it to rotate it back clockwise, install the screws and snap on the cover.
Step 6
Install the lever onto the mount and tighten the set screw with the Allen wrench that is provided in the kit.
Step 7
Install the deadbolt by holding the exterior in place and installing the interior assembly. Insert and tighten the long screws and put the finished cover on.
Step 8
Replace the old jam brace and strike plates with the new hardware provided in the kit. Unscrew and remove the old existing hardware and install the new hardware in opposite fashion.
Tip
Test the locking functions to ensure that you have installed the hardware correctly.