Things You'll Need
Tape measure

Foam pipe insulation tubes

Insulation tape

Scissors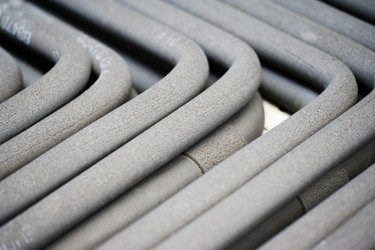 PEX piping is used in some newly constructed homes, as well as older re-plumbed households. PEX is flexible and made of cross-linked polyethylene, requiring no primer or cement to hold the joints in place. These joints are either plastic or brass, and are fitted to the pipes using crimp rings. Though durable and resilient to temperature change, PEX pipe needs to be insulated, using the same foam pipe insulation as standard copper or CPVC water lines.
Step 1
Measure the diameter of the PEX pipe that needs to be insulated. Use the same diameter foam pipe insulation tube, as the PEX pipe.
Step 2
Pull open one end of a section of foam pipe insulation tubing at the slit using your hands. Push the PEX pipe into the hollow center of the foam tube. Work your way all the way down the tube opening the slit, and pushing in the PEX pipe.
Step 3
Pull off the plastic strips covering the glue on each side of the tube's slit. Push the slit together with your hands; the glue will hold the slit together.
Step 4
Install the next section of foam tubing around the PEX pipe following the same directions. Push this second foam tube up against the first tube. Wrap insulation tape three times around the join between the two foam tube ends. This will help both insulate the pipe, and keep the foam tube in position. Continue in like fashion installing more insulation tubing, until all the PEX piping has been insulated.
Tip
Use scissors to cut the foam insulation tubing, where necessary. Foam insulation tubing has a slit all along one side of the tube. This is to allow access for the pipe to be installed inside the tubing.