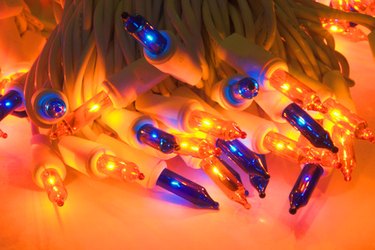 Cords for Christmas lights come in different lengths, and you will probably find that yours is too long in some instances. Buying custom-length Christmas lights is one option, but many amateur electricians choose to cut their own from longer ones. If you plan to do this, you need to know how the wiring works and take safety precautions.
Making Custom Christmas Light Strings
Many experts advise against making your own cut-to-length Christmas lights because the lights will no longer conform to safety codes. Instead, they recommend bunching up the excess cord and lights in one hand and securing them with zip ties. When you string out the cord, hide the bunch behind a bush or in the tree. This will not harm the lights and does not compromise safety.
There are some important safety guidelines to follow if you want to make custom LED Christmas lights. Always be careful around exposed wires, as they can shock you. Remember to unplug lights before starting and do not plug them in until the exposed wires are covered with wire connectors. Also, use waterproof/outdoor connectors with outside holiday lights.
To determine how the lights are wired, remove one bulb when the string is lit. If all the other lights stay on, the strand is wired in parallel. If a section goes off, they are wired in a series. Most holiday light strings are wired in a series, but strands wired in parallel can be easier. These light strands are made to have each bulb receive 120 volts, and each is directly routed to the power source. Therefore, you can cut them to any length without burning out or overpowering the other bulbs. Use a pair of wire cutters to cut between the bulbs and cap off both ends with wire connectors.
Series-Wired Custom Christmas Lights
For series-wired lights, locate both sides of a section that shuts off when one bulb is removed, where you see the cord changing from three wires to two and then back to three wires. Unplug the cord and cut the lights apart where there are two wires. Cap each of those two cut wires using a wire connector. It is better to remove the entire section instead of individual lights since the 120 volts will be distributed to the rest of the lights.
Buying Custom-Length Christmas Light Strings
If you don't want to bother cutting light strings or bunching them up, you can buy custom-length Christmas light strings instead. These may be easier than ready-made stringers because you usually end up with extra in the latter case. Some kinds of Christmas light strings cannot be changed, and bunching them up could damage the bulbs.
Some manufacturers sell green and white empty socket lines in different lengths with LED bulbs that are sold separately. The cords are sold in 500-foot and 1,000-foot rolls, but you can also order them by the foot. The bulb spacing ranges from 6- to 36-inch increments, and you can choose from C7 and C9 bulb sizes.
It can be more cost-effective to order bulk cords instead of many smaller ones. You will need to know how many separate lines you will want to create from the bulk cord length, so make your measurements ahead of time. For each cord, order a male and female plug as well. When you are ready to make a new line, cut the needed length from the bulk cable and slide a male plug on one end and a female on the other.