Things You'll Need
Black rectangular laundry basket

Scissors

Shiny black scissors

Yellow ribbon

Black craft foam

Hot glue gun

Glue sticks

Black knit hat

Black sweat suit

Black shoes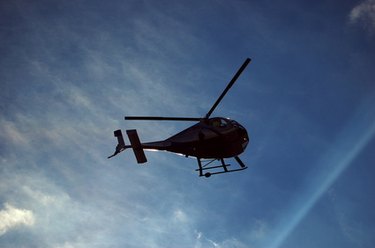 When your child is into helicopters, let him dress up as his favorite thing for Halloween or for a costume party. Make his helicopter costume using items from a home store, a craft store or items that you already have. Your child will likely be the only one dressed as a helicopter, so he will enjoy being unique.
Step 1
Cut the bottom out of a black rectangular laundry basket. Cut sections out of the longest sides of the laundry basket. Your child will wear the laundry basket around his waist and his arms will go through the sides of it.
Step 2
Cut a large piece of shiny black fabric and use it to completely cover the laundry basket. Hot glue the fabric to the laundry basket. Using your scissors, cut the fabric away from the holes in the bottom of the laundry basket and the sides. Cut a hole for your child's head to go through.
Step 3
Hot glue strips of yellow ribbon onto the laundry basket to create details of the helicopter. For example, use ribbon to create the outline of a windshield and side windows.
Step 4
Cut four small propeller shapes out of black craft foam. These will be the propellers for the back of the helicopter. Hot glue them onto the back of the fabric-covered laundry basket.
Step 5
Cut four more propellers from the craft foam, but make these much larger. Hot glue them to the black knit cap. Make sure that the foam propellers will stand out on their own. If they are so large that they bend in the middle, hot glue them to cardboard painted black before attaching them to the knit cap.
Step 6
Dress your child in black sweat pants, a black sweat shirt and black shoes. Put the laundry basket helicopter on over his head and complete the outfit with the propeller cap.