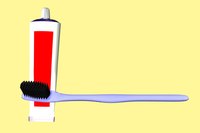 It always takes a lot of effort to find a creative costume for Halloween or costume parties. Sometimes, however, the items in your own home can be the inspiration for a costume. For example, why not try making a toothpaste costume? Easy to make and appropriate for individuals of all ages, this costume is inexpensive in terms of both time and money. Just don't forget to flash a bright smile when you're wearing your toothpaste tube!
Things You'll Need
White cloth
Thread and needle
Felt paper
Scissors
Hot glue
White lampshade
Headband
Measure the widest part of your hips. Add 2 inches to your exact measurement. The total measurement is the width of your white cloth.
Measure your height from your shoulders to your ankles. This is the length of the white cloth.
Cut two panels of white cloth to these measurements.
Pin the two cloth panels together with the right-sides facing each other.
Measure the width of your neck. Use the measurement to cut a half-circle on the center topmost section of the two pinned cloths; this will create a u-shape in the fabric. This will be your neck hole.
Measure from your shoulder to about 2 inches below your armpit. Cut half-circles from both of the upper sides of the pinned cloths; they should extend from the beginning to the end of this measurement. These will be your armholes.
Stitch the sides of the cloth pieces together, skipping the holes. When you are done, turn the cloth out to its good side.
Brand your toothpaste costume. If you don't have a specific brand in mind, a simple title of "toothpaste" will suffice. Print the letters of the title onto a piece of paper. Lay out the design on the cloth, making sure that it fits the length of the cloth.
Trace the wording layout onto the felt paper.
Cut the felt paper and glue the letters to your cloth. To make the letters fit, glue them starting from the lower left of the cloth going up toward the upper right. The wording will be arranged diagonally across your body. The body of your toothpaste tube is now done.
Put the white lampshade onto your head to serve as your toothpaste cap.