Things You'll Need
Cardboard

Gold metallic spray paint

Craft glue

Glitter

Cord, chain or string

Boxers

Baggy jeans

Baggy shirt

Ball cap

High tops or construction boots

Hoodie

Empty candy wrappers

Colorful hard-shelled fruit candies

Sunglasses

Candy necklaces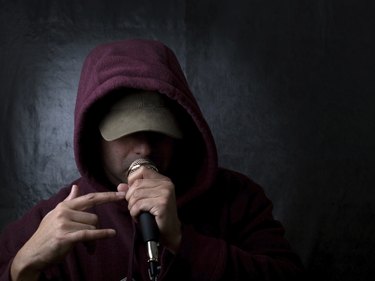 A rapper costume is a relatively inexpensive outfit that you can put together quickly. In fact, all the items you need to create this costume might already be in your closet. When it comes to homemade rapper costumes, you have options to choose from. You can either put together a traditional rapper outfit or go for a costume that makes a play on words.
Traditional Rapper
Step 1
Create the jewelry by cutting cardboard into circles. Spray-paint the circles with gold metallic paint and let dry. Decorate the circles with glitter. Punch a small hole in the top of each circle. Thread a cord, chain or string through the hole and secure with a knot to make a necklace. Alternatively, purchase inexpensive fake gold jewelry to wear with the costume.
Step 2
Put on a pair of boxers. Wear baggy jeans and baggy shirt. Pull the jeans down a bit so the boxers are visible. Use a belt to keep the jeans low. Alternatively, wear a white shirt and tracksuit for a more 80s hip-hop look.
Step 3
Wear a ball cap either backwards or to the side. Finish the look with a pair of high-top athletic shoes or construction boots laced loosely.
Candy Rapper
Step 1
Spread a hoodie out on a flat surface with the front facing up.
Step 2
Rub your hands along an empty candy wrapper to flatten it out a bit. Apply fabric glue to the back of the wrapper. Press the glue side of the wrapper against the hoodie. Continue in this manner until you have glued the desired amount of candy wrappers to the hoodie. Let the glue dry before wearing.
Step 3
Glue colorful hard-shelled fruit candies along the top rim of pair of sunglasses. Let the glue dry for a few hours before handling.
Step 4
Put on the hoodie and a ball cap. Pull the hood portion of the hoodie over the ball cap. Put on the sunglasses and wear a few candy necklaces. Wear a pair of baggy pants and high-top athletic shoes laced up loosely.
Warning
Avoid using makeup to change your skin color. Not only is this usually considered bad taste, but it can also be offensive to many people.