Things You'll Need
Computer paper

Used wrapping paper

Ruler

Scissors

Round wooden toothpicks

White glue

Block of Styrofoam

Resin

Foam paintbrush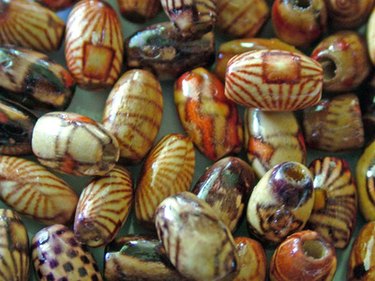 Making paper beads is an economical and creative way to turn paper into jewelry. The beads can be made by creative types of all ages and is a fun craft project at a birthday party. The bead making utilizes recycled wrapping paper for an eco-friendly activity that will result in some glamorous necklaces, bracelets and earrings. Resin can be found at craft supplies stores and provides durable and tough protection for the paper beads.
Step 1
Cut the computer paper into strips measuring 1-inch by 4-inches with the scissors. Cut wrapping paper into 1-inch by 2-inch strips.
Step 2
Wrap the computer paper around a toothpick tightly. Glue the end down with the white glue.
Step 3
Wrap the wrapper paper around the wrapped computer paper. Glue the end down with the white glue.
Step 4
Insert the end of the toothpick in the block of Styrofoam. Paint the outside of the paper bead with the resin, using the foam paintbrush. Let the resin dry for two hours. Pull the completed bead off the toothpick.