Things You'll Need
Word processing program

Scissors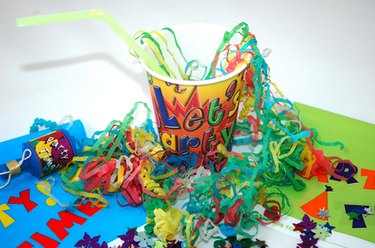 If you are hosting a party and want to be resourceful, print four flyer invitations on one sheet. Cut the flyers with a pair of scissors, and then distribute them. If you want to save your ink, consider printing only one page, and then paying a professional copy service to mass produce your flyers in color.
Step 1
Click on the "New" icon in your word processing program, such as Microsoft Office.
Step 2
Double-click "Flyers" and then "Event Flyers." Select the event flyer template you would like to customize. Double-click on the icon of your selected template. It opens up into a word processing document.
Step 3
Personalize your event flyer. Click on the filler text. A text box outline appears on the template. Click your cursor inside the text box, and then press "Ctrl" and "A." This is a shortcut that highlights all of the text. Press "Delete," and then type your personalized text into the box.
Step 4
Save your flyer. Click "Print."
Step 5
Click the "Properties" button when the Print dialog box pops up on your screen. Select "4 pages" from the "Pages per Sheet" drop-down box. Click the "OK" button. The printer produces a sheet with four copies of your party flyer.