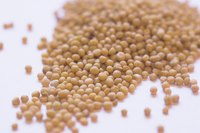 Mustard seeds are very small, but they have great significance to people of the Christian faith. This is due in part to a biblical passage in which Jesus says that faith as small as a mustard seed can move mountains. Because of their religious meaning, mustard seeds are a popular item in Christian craft projects for kids. Mustard seed necklaces are a fun and easy thing to make at church camp or Bible school, or just because you like them.
Things You'll Need
Wiggly Eyes
White Construction Paper
Pen or Pencil
Scissors
Small Glass Bottle with Cork (optional)
Mustard Seeds
Glue
Ribbon or Cord
How to Make a Mustard Seed Necklace
Peel the backing off a stick-on wiggly eye from the local craft store. Discard the adhesive backing and the black "pupil," saving only the clear plastic part.
Lay the clear plastic on a small sheet of stiff, white paper, such as construction paper, and trace its outline with a pen or pencil. Use scissors to cut out the shape you have drawn.
Glue the mustard seed in the middle of the piece of paper you have cut out and carefully apply glue around the paper's edges.
Put the piece of clear plastic onto the paper over the mustard seed, lining up the edges. Let the glue dry, and you have the pendant for your necklace. Alternatively, you can purchase a small glass vial or bottle with a stopper and place the mustard seed inside.
Cut a length of cord or ribbon long enough to loop over your head, and glue each end to the back of the mustard seed pendant. If you choose to use a bottle instead, many have stoppers with eyelets already in them. Simply thread the cord or ribbon through the loop and tie the ends in a knot.