Things You'll Need
Scissors

Markers

Plants

Acrylic paint

Paintbrush

Old placemats

Blade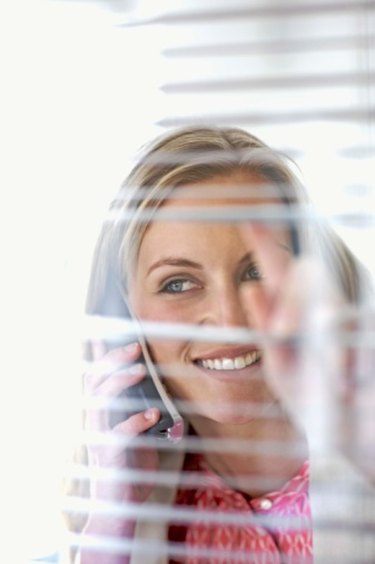 While it's wise to reduce clutter, unwanted and unused items from your home, throwing out items made out of useful materials, such as plastic and vinyl, is wasteful and unfriendly to the planet. Before you toss out something that you no longer need, examine it to see if there are any possible other uses for it. Before you throw away an old or broken set of vinyl blinds, consider recycling them into something new.
Potted Plant Labels
Step 1
Cut a piece of the vinyl blinds, one for each potted plant that you have. Make each piece around 6 to 7 inches long.
Step 2
Write the name of the plant or herb in magic marker, leaving an inch free at the end. Allow the writing to completely dry before you touch or move it, as the ink will smudge easily on vinyl.
Step 3
Stick the piece of vinyl blind into the soil of each plant, with the writing facing outward. You can proudly showcase the type of each plant for all to see.
Placemats
Step 1
Cut pieces of vinyl blinds to the length of one of your old place mats. Paint the blinds with acrylic paint, covering both sides. Allow them to dry.
Step 2
Lay a ruler vertically on top of a place mat. Cut six columns of slits down the entire surface area of the place mat. Each column should have six 1/2-inch wide slits, evenly spaced apart.
Step 3
Thread your vinyl blind slats in and out of the slats. The finished look will be a grid of fabric and painted vinyl and will look absolutely striking.