Things You'll Need
Face mask

Goggles

Vinyl gloves

Trowel

Acid detergent

Surface cleaner

Prepurchased sodium hypochlorite and high alkaline detergent mixture

Epoxy or solvent-based clear acrylic sealer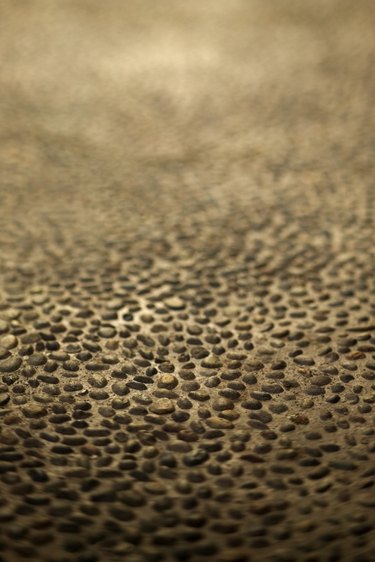 Often used on patios and even bathroom floors, pebblestone can provide a zen-like atmosphere to any home. Installing pebblestone also can be a do-it-yourself project, requiring only pebblestone, a trowel, an epoxy resin and hardener, and mineral oil spirits. However, laying the pebblestone is the easy part. Once it is laid, it must be pressure washed with a surface cleaner before it can be sealed. Sealing a pebblestone surface will keep it intact and provide a shiny coating. If you don't have experience with pressure washing, it's best to hire a professional.
Step 1
Place all of your protective coverings on your hands and body, including gloves, goggles and a face mask. Wear long sleeves and long pants. This is important because you will be working with an acid detergent.
Step 2
Evenly pour acid detergent over the pebblestone surface and immediately go over the acid detergent on the pebblestone with a surface cleaner. A surface cleaner has a nozzle that keeps the wash even and prevents damage to the pebblestone. Be sure to cover the entire pebblestone surface.
Step 3
Apply a prepurchased mixture of sodium hypochlorite and high-alkaline detergent evenly to the pebblestone surface. Immediately go over the mixture on the pebblestone with the surface cleaner. Be sure to cover the entire pebblestone surface. This will help to remove dirt and kill any mold or mildew. Let the pebblestone surface dry for 24 hours.
Step 4
Apply one coat of an epoxy or solvent-based clear acrylic sealer with a trowel. Let the sealer dry according to the instructions, and apply a second time. Let the sealer dry according to the instructions.
Step 5
Apply the sealer a second time and allow it to dry according to the instructions.
Step 6
Apply the sealer a third and final time.
Tip
Let the pebblestone floor or patio dry for at least 24 hours after laying.
Warning
Immediately seek medical attention if you spill any chemicals on your skin or anywhere on your body.
Do not walk or place anything on the pebblestone surface during the sealing process.