Things You'll Need
Light-colored fabric

Fabric marker

Crayola crayons

Iron

Ironing board

Paper towels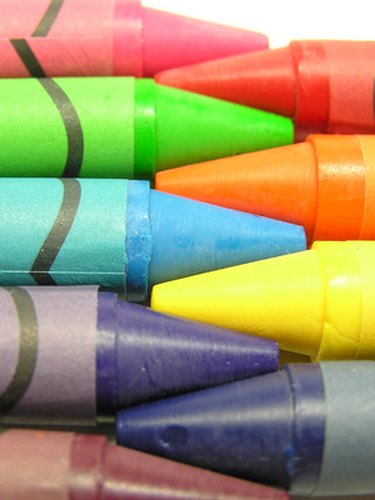 A fast way to create a unique and colorful design on textiles such as pillows and t-shirts, is to use Crayola crayons. The colors are vivid, and when applied correctly, appear bright and cheerful. Use 100 percent cotton fabric while coloring with regular Crayola crayons. Larger designs using less detail will give the best results.
Step 1
Pre-wash your light-colored fabric. Make sure it is completely dry prior to decorating.
Step 2
Draw your design freehand on the fabric using a fabric marker. If you want a particular design, you can tape a photocopy of the design to the back of the fabric and tape the fabric to a window, using daylight to trace the outline of the design onto the fabric.
Step 3
Color your design using Crayola crayons. Large areas of color and less details will show up better on the final project.
Step 4
Pre-warm your iron to the "cotton" setting. Put your colored fabric between two sheets of paper towel.
Step 5
Iron over the top paper towel. Remove the top paper towel and replace it with a fresh, clean sheet. Repeat this process until the paper that is removed no longer shows any trace of crayon wax.
Tip
If you want your final design to be darker, you can draw on top of the design again and repeat the ironing process.
Warning
Using regular Crayola crayons instead of fabric crayons makes the design delicate.
To clean, hand wash the fabric in cold water and hang to air dry.