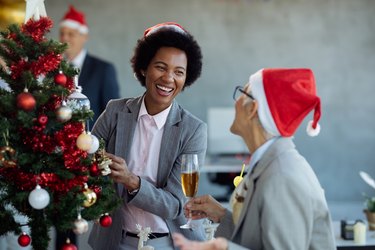 In some ways, shopping for an office secret Santa is easier than choosing a gift for a white elephant exchange. At least you know for whom you're buying and have a shot at picking out something the person would really like. On the other hand, what the heck does Kim in accounting like anyway? As you look for secret Santa gift ideas for co-workers, aim for personal and thoughtful gifts but know that you can always fall back on more generic, easy secret Santa gifts if you're really stumped.
Start by Gathering Some Intel
Even if you've been assigned a co-worker you don't know well, you'll probably be able to learn some things about his tastes and interests. If you work at the same site, pay attention to what he drinks and eats for lunch. Scope out his workspace for indicators of things he likes (like a mug with his favorite sports team's logo, pictures from past Disney trips or framed photos of pets), which may help inspire gift ideas.
His social media pages might also reveal a lot about how he likes to spend his time outside of work. If other people at the company know your co-worker better than you do, ask around for more information about the person's hobbies and what kinds of gifts he might like to receive.
Choose Personalized Gifts
While you're thinking about secret Santa gift ideas for co-workers, consider things she could enjoy during her personal time as well as things she might enjoy using at work. Draw on everything you know about her interests to hone in on specific ideas.
If you know she loves dogs, pick out a coffee table book filled with beautiful pet photography, a dog-themed photo frame for her desk or a page-a-day calendar with funny dog photos. If you know she loves to snack on chocolate during the day, buy a gift basket from a local chocolate shop or make a gift basket of gourmet chocolates. Face masks, makeup items or nail polish gift sets may be great Christmas gifts for female co-workers who love beauty and grooming. A new set of drinking glasses with her favorite team's logo might be a good gift for a sports fan.
Your insider knowledge of the office might also inspire a gift idea. If you know it's always dark and gloomy in her workspace, you might pick out a small lamp for her desk. If you know she spends a lot of time on conference calls, buy some handheld puzzles or a tabletop game to give her something to do while she sits and listens. If you know that her job is very physically demanding, give her a foot bath or a neck and shoulder heating pad with aromatherapy to use at the end of the day.
Last-Minute, Easy Secret Santa Gifts
Maybe you're too pressed for time to come up with thoughtful and creative gifts for your specific co-worker, and you need easy secret Santa gifts instead. Things like a woodsy-scented candle, a cozy throw blanket or a nice box of cocoa mix are classic gifts for co-workers. Gift cards can be great secret Santa gift ideas for co-workers too as long as you include a handwritten card so the gift doesn't seem impersonal. Choose a gift card from a coffee shop you know he enjoys or for the bar he favors at happy hour.
Simple pieces of jewelry, like a necklace made by a local artisan, can make nice Christmas gifts for female co-workers. Make sure her ears are pierced before buying earrings as a gift. Generally speaking, however, it's best to avoid giving clothing as Christmas gifts for co-workers. It's too personal, and getting the sizing right can be difficult. Stick to gifts that anyone can use and enjoy.