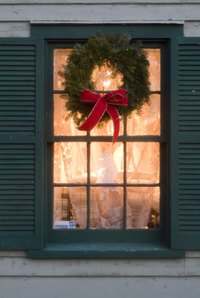 Pine wreaths are a beautiful way to celebrate the holidays with a touch of nature. Unfortunately, wreaths are less beautiful when the pine boughs inevitably begin to wilt, dry out, and turn brown. The best way to keep a wreath fresh is preventing it from drying out in the first place by keeping it in a cool, moist location away from direct sunlight. In a pinch, you can follow a few steps to revive your holiday wreath.
Things You'll Need
Large heavy-duty garbage bag
Find a workspace that's cool, but not freezing, where you won't mind a bit of water spillage. A garage is a perfect place to conduct this project.
Place your wreath inside a large, heavy-duty garbage bag.
Fill the bottom of the bag with cool water.
Allow the wreath to absorb the water in the bag for at least 12 hours. Once re-hydrated it will perk up and look healthy once more.
Spray your wreath with Wilt-Pruf, which can be found in gardening stores, to keep your wreath from wilting. If you can't find this spray regular hairspray will do.