Things You'll Need
Evergreen branches

Garden clippers

Wire wreath frame

Spool of florist's wire

Wire cutters

Decorative trimmings

Hot glue gun

Bow

Ribbon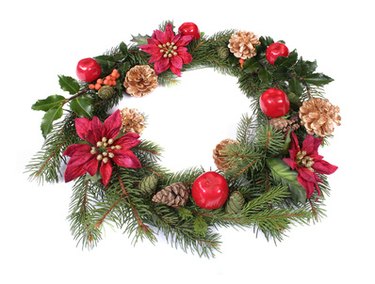 Wreaths made of fresh greenery fill the house with the aroma of pine and add a lushness to your holiday decor. Making homemade wreaths is an economical way to decorate, and a fun family project. Gather greens from your yard or nearby woods, or ask a Christmas tree lot for branches trimmed from the trees they sell. Save the wreath forms and use them to make new wreaths each season.
Step 1
Cut greenery into 6- to 8-inch lengths. They don't all have to match, but pieces longer than 6 inches are difficult to work with. Use a variety of evergreen species if possible: pine, fir, balsam and holly.
Step 2
Wrap wire around the stem of one piece of greenery. Lay the stem with wire attached against the inner circle of the wreath frame. Wrap the wire around both the stem and the frame a couple of times. Do not cut the wire.
Step 3
Lay a second stem of greenery atop the first, 1 inch farther along the circle. Both pieces of greenery should have their tips pointed in the same direction. Wrap the wire around the stem and the frame. Continue in this manner until the inner circle of the wreath frame is covered in greenery.
Step 4
Wire greenery to the next circle of wire on the wreath frame. Lay all the greenery in the same direction, one stem atop the other, until all the circles of the wreath are filled. Cut the wire and tuck the ends under the greenery.
Step 5
Add berries, balls, ribbons, holly, pine cones or other decorations with more wire or with a hot glue gun. Finish with a bow.
Step 6
Cut a piece of ribbon 18 inches long. Loop it around the top of the wreath and tie a knot to form a loop for hanging your wreath.