Things You'll Need
1 yard cotton fabric

2 yards ribbon or lace

Coordinating thread

Scissors

Pins

Sewing machine

Iron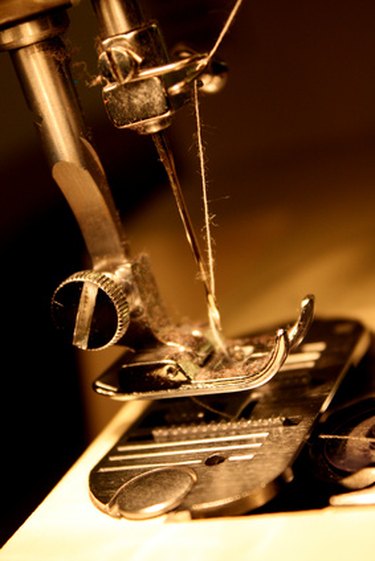 A lap handkerchief, also called a lap scarf, is often used in church settings. These large rectangular pieces of fabric are traditionally used to cover the knees of women wearing dresses, although because they are fairly large they are also used as impromptu shoulder shawls and light blanket-style coverings. Lap handkerchiefs are often made with a border of ribbon or lace, and are an easy craft project that you can make yourself in a few hours.
Step 1
Wash and dry your fabric to shrink it and prepare it for sewing. Cut off any excess threads. Iron your fabric to remove wrinkles.
Step 2
Lay your fabric unfolded on a flat hard surface. Fold over each edge 1/2-inch toward the wrong side of the fabric. Iron each fold into place with a hot iron. Fold over each of your ironed edges another 1/2-inch and iron into place. Secure your folded edges with pins all the way around the lap handkerchief.
Step 3
Sew around the entire edge of the lap handkerchief with a straight seam and 1/4-inch seam allowance. Start your seam in the middle of one of the short edges. Backstitch three to four stitches at the beginning of your seam.
Step 4
Stop at each corner with the needle down and left the presser foot. Turn your lap handkerchief 90-degrees. Lower the presser foot and continue sewing your straight seam. Continue around the entire perimeter of the lap handkerchief until you return to where you started your seam. Backstitch three to four stitches to lock your seam into place.
Step 5
Cut your ribbon or lace into two equal one-yard pieces. Fold over each short raw edge 1/4-inch and iron into place. Place one piece on each short edge of your lap handkerchief so that the lowest edge of the ribbon or lace rests evenly with the bottom edge of the lap handkerchief and the raw edges are facing the right side of the fabric. Pin into place.
Step 6
Sew the lace or ribbon into place with coordinating thread and a straight seam. Sew each edge of the lace or ribbon with a seam allowance 1/8-inch away from the outer edge. Backstitch at the beginning and end of your seams to lock them into place.