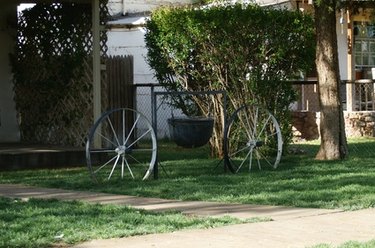 The Black and Decker ST6000 trimmer comes preloaded with a spool of nylon wire, but you will need to reload the trimmer after one or two heavy uses or a handful of moderate uses on a small to medium-sized yard. Purchase a spool of nylon wire from a hardware store, and make sure your trimmer is unplugged from any source of power before you begin replacing the old spool with a new spool of string.
Step 1
Remove the spool nut by hand and lift the spool out of the auxiliary handle. The auxiliary handle is the horseshoe-shaped handle located approximately halfway up the trimmer.
Step 2
Unwind about 3 feet of line from your replacement spool and thread the end of your line through the narrow, raised line hole in the auxiliary handle. Place the line spool in the auxiliary handle in the same position as the spool you removed.
Step 3
Replace the spool nut. Tighten the nut firmly by hand.
Step 4
Insert the 3 feet of reserved line into the motor housing's small line hole. This hole is located at the top of the motor housing.
Step 5
Check to see that you've fed the line to the trimmer hub. If there is no line visible, push the feed bar while pulling more line, pushing the line down into the motor housing tube. The line will automatically be trimmed when you turn the trimmer on again.